Vance'sMondayNightAcousticPajamaParty#32 WITH VARIOUS GUITARS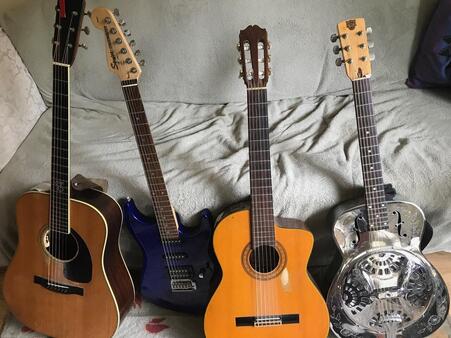 I'll be playing my stuff but spreading the love between my regular 6-string, my classical, a resonator, and an electric, so anything can possibly happen!!

Where: https://youtu.be/SebIrWSBAfM

When: Monday Nite, October 26th 7:30PM EDT ("doors" open at 7 for community hang) -

Who gets 10%: My best friend lost his daughter, Liz. I was her Uncle Vance. I'll give money to a GoFundMe college fund for her 6 year-old daughter Zinnia Jane's future. I know, not local non-profit giving, not this time. Yeah, but this is family, so: https://www.gofundme.com/f/zinnia-janes-college-fund

$$$: http://paypal.me/vancevancevance or
https://venmo.com/vancevancevance or
a check to VanceFunder P.O. Box 17, Arlington, MA 02476 for this web-groovery.
Pay or not. It's up to you. Let's just stay connected.

This week's pajamas: Sweatpants with doggies (b'day gift) purple sweatshirt.

I coach voice, songwriting, performance. Contact me. I have some open spots

Good Good Man - the CD - streaming all platforms, even get it from me…

—————————————————————

TWO THIRDS BROKEN HEART

You asked, so this is another aviation post. However, it's been a rough week.

Tom is the most incredible rubber-powered model plane builder I've ever known. Seemingly perpetual Flying Aces Club Grand Champion. Brilliant artists both, he and his wife together are responsible for all of my album covers but 2 since 2000. If I play within 2 hours of Bethlehem, PA, that's my sleeper couch and breakfast. We have told each other things no one else knows. His kids call me Uncle Vance.

Tom lost his daughter, Liz. Troubled as a teen and as a young adult, it looks to be a seizure. She leaves a magnificent daughter Zinnia, whom I have played Matchbox cars with, and husband Rick. My little niece. It's been a rough week.

Another magnificent model builder, Rich, landscaper by profession, illuminated for us the truth that our yard and property could be the micro-sanctuary it is. His planes weren't the cosmetic genius that Tom's are. Truly, his ships looked like they were built with mittens and spoons. Yet he flew them expertly, so that one of our brethren proclaimed that "Rich had the unusual *skill* of being more capable that he thought". Not an outgoing character- gruff, unkempt, tobacco hewn, diabetic, in constant kidney failure, COPD and 3 years younger than me, my buffet Chinese go-to pal is gone.

It's been a rough week.

I placed my yearly call in to Don, 91 years old. Model airplane genius, innovator, of my original Old White Men. Ex- Consolidated Vultee designer. Fly-sized spy drone designer for the US Government. Operation Paperclip (where German science POWs were brought to the US to start the space program) liaison, thanks to his mastery of high school German, politics and science. Democrat member of Gerald Ford's cabinet. Flying Aces Grand Champ and Special Achievement Award winner.

It's comic to attempt to complete this list of Don accolades and genius. Let me truncate it by saying I hadn't gotten a call back from Don by the time I had heard about Liz and Rich.

We have this saying in our model airplane club when there is a great loss. "Use the good wood", we say. It's our blessing that means saving the lightest, strongest wood for our future models is a fools errand in the face of death and time. "Use that wood now", we admonish each other as some sort of aero-Irish toast.

I saw Don's name on my phone calling back 48 hours later. I figured this week was about to get rougher with his wife Nancy's voice putting the trifecta cap on this lingering two-thirds heartbreak.

I answered and Don started in. He wants to know if I have the plan for my 13" Larkin Lascowl - same plane that he helped me trim after I'd inadvertently run over it with my van - as he wanted to blow it up to 54". I promised him that I'd get that plan in the mail in the next 24 hours.

"Great" he talked over me. Don is nearly deaf. "I'm pretty excited for this build. I'll have it done by spring for test flying and contest flying in the summer. You probably already know, Vance, that Jupiter radial on the nose was a post-production attempt to..."

I don't recall a whole lot more of what he said. One third of my heart remains unbroken, hopeful, airworthy, as this enthusiastic 91 year-old man made a definitive plan to have built and tested this plane by next summer. Next summer. This old man's ardor was like a shawl around the shoulders of my uncertain tomorrow.

He might still be talking. Probably building, using his best wood.