Vance'sMondayNightAcousticPajamaParty#61 - Favorite Song From Each Album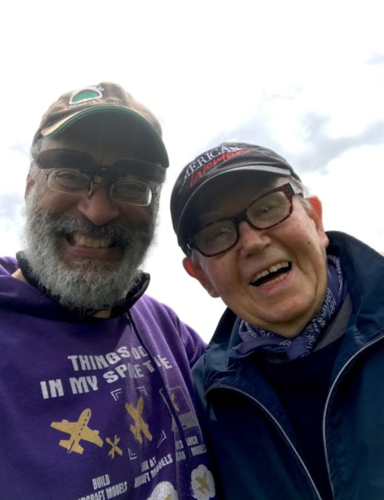 Do you know I released an LP in 1985 called Here I'm Waiting? I'll start there.

Where: https://youtu.be/A7Kqt2TzIDk

When: Monday Nite, MAY 17th 7:30PM EDT
("doors" open at 7 for community hang) -

WHO GETS 10%: Boston Public Library Fund - https://www.bpl.org/about-us/support-the-bpl/
Duh! Yeah they get money this week..

$$: http://paypal.me/vancevancevance or
https://venmo.com/vancevancevance or
a check to VanceFunder P.O. Box 17,
Arlington, MA 02476 for this web-groovery.
Pay or not. Up to you. Let's stay connected.

This week's pajamas: grey
OTHER SHOWS:

Wednesday, May 19th, Portsmouth, NH. The Portsmouth Music Hall - https://www.themusichall.org/events/vance-gilbert/ - 2 outdoor socially distance shows. 6:00 & 8:00 PM

Sunday, May 23rd - Ellis Paul Traveling Medicine Show Festival - https://www.tribalmischief.com/traveling-medicine-show-festival - virtual show with a cast of many plus me!

Saturday June 5th - Easton MD The Avalon Theatre https://tickets.avalontheatre.com/eventperformances.asp?evt=1291 - another pair of socially distance shows 8 & (I think) 10pm

I teach and coach stuff.

Good Good Man - the CD - streaming all over, even get a CD from me…
---------
See that guy with me in that picture? This is Domenic. He saved me Sunday.

He's a fine model plane builder and flyer. He winds up, launches, chases, and times his own wonderful planes. He was the last one to leave the field last Sunday afternoon, where we flew in the howling wind, 3-1/2 hours away from me, in Central NY. He's an Old White Man, and I adore him. If you're offended by that, then you don't know me. That's ok. Read on if you like.

Just know that he saved me Sunday.

I was driving to fly model planes with a handful of these Old White Men, sure, but first and foremost I was driving because I needed driving.

I was tired driving away from all my struggling to understand the occasional black and blue flags in my neighborhood, away from those who would weaponize a face covering, away from who lives or dies on a lawn sign, from guessing at the exponential number of things not caught on these phones cum camera motion picture consciousnesses, I was cruising, exhausted by history, depleted of understanding, and frightened for my neighborhood's kid's tomorrows. Bleary-eyed teary-eyed exhausted driving.

No offense mostly White people that I'm sure see this post, but I was broken from just being Black in the middle of your and my day. So I was driving.

See, I'm that guy. I'm that gregarious guy. I crack the funny joke about our colors. I'm often the connector. But Sunday I was driving, and I was tired of it all.

Domenic sees me on the flying field, his arms go up in the air, and he shouts "Ahhhhhh Vance!!!" Mask down quick for a pic. Big hug or handshake. He's full of great stories. He has no idea why he has been gifted with living as long as he has. He says, "I don't get it. My mother died at 40. My father a decade after that. But here I am." He shrugs. Winds a plane. Launches it. Trots off after it. So do I.

I have no idea of his politics. He's 95 years old. He loves my building and my flying as much as his own. He thinks I hung the moon. He's closer than most to whenever his last day might be. But on Sunday he gave me one more day of hope and peace as I head towards mine.

Thanks Domenic.