Vance'sMondayAcousticPajamaParty #125 - MID-SEPTEMBER SOIREE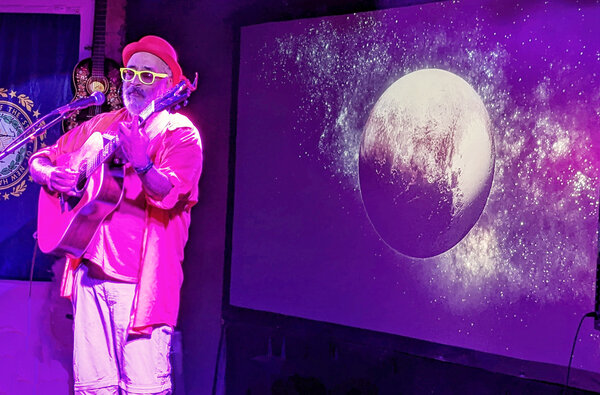 Another evening of stringing tunes together with a thru-line inspired by who knows what.

When: Monday nite 9/19, 7:30EST (doors open @7 for community hang)

Where: https://youtu.be/XloHaUlzc8I

Who gets 10%: https://eldercare.org/ Somerville/Cambridge Elder Services. They enable older adults and younger people with disabilities to remain living in their own or their families' homes for as long as they choose to do so.

http://paypal.me/vancevancevance or
https://venmo.com/vancevancevance or
a check to VanceFunder P.O. Box 17,
Arlington, MA 02476 for this web-groovery.
Pay or not, up to you. Let's stay connected.

This week's pyjamas - warmer ones than last week...

IN PERSON SHOWS: see way below.

NEW ALBUM. Donate any amount = name on the cover. Same links above, note "VanceFunder". Any amount over $1 works, but $1000 -plus- makes you an exec producer, name in heavy black font.
-------------
BATHROOM BARRE

I used to make silent fun of the 2-foot long bar above the soap holder in our shower. No pics of my shower - that's just creepy - but for now imagine the pink & black, early '50's 4 inch tiles, the black soap thingy as an actual cemented-in insert, and this 50's sci-fi movie bolted-on radioactive coolant junction.

Sam and Elsie McDonald, part of a mid-50's diaspora from Nova Scotia, had owned this house since 1953, built on hilly Arlington ex-farm land by Sam on weekends and evenings when he wasn't working maintenance at MIT. Sam was a terrific builder. Legend has it that he even poured the foundation of this place on a weekend by himself.

I joke that Sam's real name was "Three Screw Sam", because anything that was to be taken apart for even a modicum of redesign had three screws in it when two would do. Man, did he ever care about this place. Imagine our surprise in 2000, after the absolutely packed open house, after saying a familiar hello to 90+ year old Elsie reposed in a recliner on the back porch, to later get the realtor's call that the house was ours. We were easily 1/2 way down that list of hyper-qualified buyers. Some had a "no inspection needed" clause. Some were many thousands over asking price. The realtor confessed surreptitiously that Elsie told him "I want that nice mixed couple in the apartment down the street to be the ones that live here…"

Sam wasn't much on cosmetics. So for years I'd giggle at that adapted water pipe affair Sam screwed in for his aging wife and self, with its far too many, hex set screws, and just shake my head. But after I type this, I'll go out for a run. I'll be sweaty when I return and I'll need a shower, the run making my already wonky now 63 year old knee even a little less stable...

That bar looks better and better to me every day.

Thanks Sam. Thanks Elsie. It's another thing for which I'm forever grateful.