"Nearness Of You" officially available!
Tuesday, May 19, 2015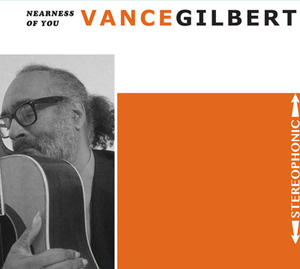 Vance Gilbert's solo jazz standard album
Nearness Of You
took 2 mics, one guitar, and 35 years to make.
The acoustic singer-songwriter scene stalwart finally got the courage up enough to sit down and record this album filled with the most venerated of tunes - tunes he has sprinkled throughout his sets of sparkling originals for years. To be exact, that's thirty-five years of honing these tunes and having them in his remarkably accomplished music quiver. Courage, because few can just sit down and play and sing songs by Duke Ellington or Thelonius Monk...
Recently encouraged by fans who offered to fund an album of these all-time standards, Vance found his way to a loft studio manned solely by Sean Staples (Resophonics, Session Americana) who hung just two microphones on their stands, sat Vance in a chair, and said "sing close up on the mic like it was someone's ear you care about". And thus was finally birthed the quiet, intimate magic that is
Nearness Of You
.
Highlights? His rubato meditation on "Moonlight In Vermont" perfectly explores the most vulnerable parts of all of us courtesy of its un-rhymed poetry and Vance's upper range. The exquisitely read "'Round Midnight" has the only overdub amongst all of the 14 songs, and its worth the two passes to get the "trumpet" solo third verse. A wondrous micro-set of Brazilian tunes is capped by Vance's take on the Jorge Ben classic "Mas Que Nada", where Vance and his nylon-stringed guitar sound like a whole samba band! Kris Kristofferson's "For The Good Times" has been a recent addition to his live set, so Vance's quiet, bedside-goodbye version is included here - a sad, dark, meditative lullaby that just couldn't wait for a solo country album. And check out the joyous careening-against-the-guardrails ragtime-swing guitar solo on "Ain't Misbehavin'" if you think this album to be all about pretty vocals.
As if the tunes could get any more spare, "Laura" is as haunting as the portrait in movie from which it comes. The nearly a cappella "Weaver Of Dreams" finishes this album off in a shameless, whispered proclamation of love .
When he initially burst onto the Northeast singer-songwriter scene in the early 90's, buzz spread quickly. Who was this multicultural arts teacher knocking them dead at open mikes? Opening all of Shawn Colvin's 1992 Fat City tour flung the door wide open for the artist and he strode gracefully through it, taking acoustic America by storm and by surprise. "With the voice of an angel, the wit of a devil, and the guitar playing of a god, it was enough to earn him that rarity: an encore for an opener," wrote the
Fort Worth Star-Telegram
in its review of a show from the Colvin tour.
Requests came in from artists as widely varied as Arlo Guthrie and Anita Baker to have Vance as an opener. The late George Carlin had him open 140+ shows over a year and a half's time. Most recently, comedian and actor Paul Reiser has added Vance to a mess of his stand-up shows, as have R&B roots rockers the Subdudes. Known equally for his vocal and lyrical virtuosity and his comedic stage banter and stories, Vance has continued to garner new fans wherever he plays. His live show has a reputation that precedes it.
Over the course of a decade in the music business, Vance has made many great recordings and his previous release,
BaD Dog Buffet
received rave reviews. Why not? Vance is no stranger to critical acclaim.
Old White Men
hit the Top 10 for 2 straight months on the Folk DJ chart.
Unfamiliar Moon
landed in the
Boston Globe's
Top 10 CDs of the year and his live album,
Somerville Live
, was cited by the
Boston Globe
as the disc "young songwriters should study the way law students cram for bar exams."
And now
Nearness Of You
. Not so much a departure from his acoustic singer-songwriter station. More like a long awaited, welcomed arrival.