Vance'sMondayAcousticPajamaParty #159 - I MIGHT IMITATE PEOPLE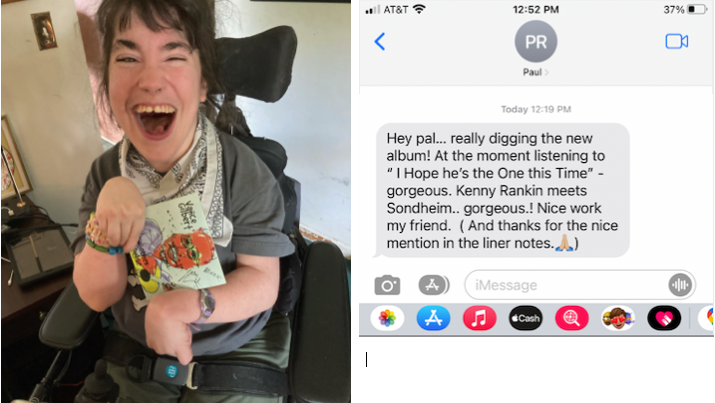 ~ NEW ALBUM CAME OUT MAY 5TH ON ALL STREAMING SERVICES !!

~ VIDEO SINGLE "BLACK ROCHELLE" IS OUT https://youtu.be/30SrbQkemdk

Vance'sMondayAcousticPajamaParty #159 I MIGHT IMITATE PEOPLE
When: Monday nite 5/15, 7:30pm ET

Where: https://youtube.com/live/A_obQFWKbRk?feature=share

WHO GETS 10%: https://www.clearpathne.org/donate/ Clear Path for Veterans New England's vision is to create a community that understands and supports the journey home for our Veterans and their families and inspires other communities to do the same.

Order the CD or pony up for a Pajama Party via the methods below:
http://paypal.me/vancevancevance or
https://venmo.com/vancevancevance or
VanceFunder P.O. Box 17,
Arlington, MA 02476 for this web-groovery.
Pay or not, up to you. Let's stay connected.

CD AVAILiaBull NOW!!! Order above with your address. Pay anything > $10
-------------
All joyous people for and about my new album. On the left is my godchild Maria.

On the right a text from my boss, one of the greatest actors, comedians, writers, producers ever, Paul Reiser

ON THE OCCASION OF A 49 YEARS LATER TEXT FROM MY COLLEGE BEST FRIEND (MY GODCHILD'S DAD) ABOUT HOW I COULD HAVE HAD MY CURRENT SUCCESS SOONER IF HE HAD TAKEN ME UNDER HIS WING EARLIER WITH MUSIC THEORY AND SUPPORT, AND MY ANSWER.

(Johnny):
"I need a moment to get some thing off my fuzzy little chest. One of my few genuine regrets in life is that, once I figured out where you were headed – – which would be maybe the end of sophomore beginning of junior year in college – – I should've stepped up and moved both of our butts into some nearby New London fire trap where we could've set up a piano, a record player, and whatever else we needed. I might've been able to help you with the occasional ii-V progression and such, and you definitely could've helped me understand musical vocalizing, plus how to be more self-sufficient and less of an idiot."
"All that said, we've turned out OK"

(Me):

"No a thousand times no… because I wasn't ready at that point in time. I was about 1/10th the potential musician I am now, and nothing would've changed it until I figured out how to learn.
You did exactly what you were supposed to at that point in time which was to encourage me and give me a place to land. You heard and saw something that you knew would finally go somewhere but only "i" could nurture it. All I can do is thank you. The absolute only thing that I can do is thank you.
You don't even know the moments that you've affected me learning about my learning …"