Vance plays - Last Minute Long Island, Subdude Batch + House Concerts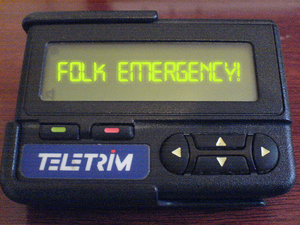 Hi VanceFan,
I have for you LILMiG, HCTBTB, SOS, and SNHP. Glossary below:
1) Long Island Last Minute Gig ... speaks for itself ... great folks
2) HCTBTB - House Concerts To Beat The Band ... I heart these
3) SOS - Subdudes Opening Slots ... I love these too!!
4) SNHP - Short Notice Holiday Parties .. I play them less expensively than you'd think.
vance@vancegilbert.com
for details. I have 2 lined up so far. Nov & Dec are still pretty open...
That all said, I'm here:
LONG ISLAND LAST MINUTE GIG (LILMiG)
Saturday
10/3/ Folk Music Society of Huntington
Congregational Church of Huntington
30 Washington Drive
Centerport , NY
631-425-2925
http://fmsh.org
These folks needed a folk performer in a hurry thanks to a Canadian act whose visa application fell apart (good thing I have a beeper for folk emergencies, shown). Thanks FMSH for thinking of me...You're welcome, Long Island!! See you on the 3rd!!
…………………………………
Wed 10/14
Annapolis MD, W/The Subdudes
Rams Head Onstage
33 West Street, Annapolis, MD
410-268-4545
www.ramsheadonstage.com
THEN
Thur 10/15
Alexandria, VA, W/ The Subdudes
The Birchmere
3701 Mt. Vernon Avenue, Alexandria, VA
703-549-7500
www.birchmere.com
When I first heard them on Shawn Colvin's Fat City album, I wanted to meet them. When I met them, I wanted one day to open for them. Now that I have been kinda consistently opening for them, I wondered what it's like to sing with them. Guess what happens on some of their encores.? We have become fast friends, all to my benefit, as I learn from them nightly. Come see us on this mini tour...
……………………………………...
Saturday 10/17
Grimsby, Ontario
Friesen Residence
905-945-7724
bob.friesen1@gmail.com
Call or email for details
……………………………………...
Sat 11/7
Uxbridge, MA
Dunn Residence
401-651-7333
steve7.dunn@gmail.com
Call or email for details
And here's a pair of tremendous house concerts. I've played both before, both have great snacks, lovely hosts. One is near Toronto. The other is in my backyard. Bob & Steve & their lovely partners make the evening memorable even before me and my singing are ever involved. Thanks.
……………………………………….
STUFF:
~ Chicago was terrific. Thanks guys
~ I might have a commissioned song used by a news service on at risk children in MA.
~ I'm a guest for 2 songs at The Regent Theatre in Arlington, MA on Halloween nite.
Anywhere you see me listed, come see me or tell someone to do so. The latter helps a lot - I'd say 40% of the Chicago show was folks who did just that…
————————————————
Wisdum for today: Some people hear voices. Some see invisible people. Others have no imagination whatsoever. xovg
EVENTS:




October 2015


Saturday, October 3rd 7:30pm
Folk Music Society of Huntington
Folk Music Society of Huntington
Centerport NY
Call 631-425-2925 for more details

Wednesday, October 14th TBA
Rams Head Onstage
Rams Head Onstage
Annapolis MD
Call 410-295-9761 for more details

Thursday, October 15th 7:30pm
The Birchmere
The Birchmere
Alexandria VA
Call 703-549-7500 for more details

Friday, October 16th TBA
Westin Bristol Place
Westin Bristol Place
Toronto ON
Call 416-675-9444 for more details

Saturday, October 17th 7:30pm
Friesen Residence
Friesen Residence
Grimsby Ontario Canada
Call 905-945-7724 for more details



more events




---



%0AContent-Type%3A%20text%2Fplain%3B%20charset%3Dutf-8%0AContent-Transfer-Encoding%3A%208bit%0A%0A%0A%0AContent-Type%3A%20text%2Fhtml%3B%20charset%3D%27utf-8%27%0AContent-Transfer-Encoding%3A%20quoted-printable%0A%0A%3Chtml%3E%3Chead%3E%3Cmeta%20http-equiv%3D3D%22Content-Type%22%20content%3D3D%22text%2Fhtml%3B%20charset%3D3DUTF-8%22%3E%0A%3Ctitle%3EVance%20Gilbert%3C%2Ftitle%3E%3Cstyle%20media%3D3D%22all%22%3Ea%7Bcolor%3A%23997d8c%3Bfont-weight%3Abold%3Btext-decoration%3A%3D%0Anone%3B%7Da%3Ahover%7Bcolor%3A%23333%3Btext-decoration%3Aunderline%3B%7Dh1%2Ch2%2Ch3%2Ch4%7Bcolor%3A%3D%0A%23997d8c%3Bfont-size%3A25px%3Bline-height%3A1%3D2E33%3Bmargin-bottom%3A5px%3Bmargin-top%3D%0A%3A10px%3Bfont-weight%3A400%3Bfont-family%3Averdana%2Csans-serif%3B%7D%3C%2Fstyle%3E%3C%2Fhead%3E%3C%3D%0Abody%20style%3D3D%22color%3A%20black%3B%20font-size%3A%2016px%3B%20font-weight%3A%20normal%3B%20line%3D%0A-height%3A%201%3D2E5%3B%20text-align%3A%20left%3B%20font-family%3Averdana%2Csans-serif%3B%20back%3D%0Aground-color%3A%20%23EFEDEA%3B%20background-image%3A%20url%28http%3A%2F%2Fvancegilbert%3D2Ecom%3D%0A%2Flayout%2Fnewsletter%2Fbg%3D2Ejpg%29%3B%22%3E%3Cimg%20src%3D3D%22http%3A%2F%2Fwww%3D2Evancegilbert%3D2E%3D%0Acom%2Fnewsletter%2F20151001%3D2Epng%22%20width%3D3D%221%22%20height%3D3D%221%22%20%2F%3E%3Ctable%20id%3D3D%3D%0A%22mailer%22%20width%3D3D%22860%22%20border%3D3D%220%22%20cellpadding%3D3D%220%22%20cellspacing%3D3D%22%3D%0A0%22%20align%3D3D%22center%22%20style%3D3D%22background-color%3A%20%23EFEDEA%3B%22%3E%3Ctr%3E%3Ctd%20style%3D%0A%3D3D%22background-color%3A%20%23EFEDEA%3B%22%3E%3Ca%20href%3D3D%22http%3A%2F%2Fvancegilbert%3D2Ecom%3Fn%3D%0Al%3D3D20151001%22%3E%3Cimg%20src%3D3D%22http%3A%2F%2Fvancegilbert%3D2Ecom%2Flayout%2Fnewsletter%2F%3D%0Aheader%3D2Ejpg%22%20width%3D3D%22860%22%20height%3D3D%22244%22%20alt%3D3D%22vance%20gilbert%20newsle%3D%0Atter%20header%22%3E%3C%2Fa%3E%3C%2Ftd%3E%3C%2Ftr%3E%3Ctr%3E%3Ctd%20style%3D3D%22background-color%3A%20%23EFEDEA%3B%3D%0A%20font-weight%3A%20normal%3B%20padding%3A%2020px%20100px%3B%22%3E%3Ch1%20style%3D3D%22color%3A%20black%3B%3D%0A%20font-size%3A%2026px%3B%20line-height%3A%201%3D2E5%3B%20font-weight%3A%20normal%3B%20text-align%3A%3D%0A%20left%3B%20font-family%3Averdana%2Csans-serif%3B%22%3EVance%20plays%20-%20Last%20Minute%20Long%3D%0A%20Island%2C%20Subdude%20Batch%20%2B%20House%20Concerts%3C%2Fh1%3E%3Cp%20style%3D3D%22color%3A%20black%3B%20%3D20%3D%0Afont-size%3A%2015px%3B%20font-weight%3A%20normal%3B%20line-height%3A%201%3D2E5%3B%20text-align%3A%20%3D20%3D%0Aleft%3B%20font-family%3A%20verdana%2Csans-serif%3B%22%3E%3Cimg%20src%3D3D%22http%3A%2F%2Fvancegilber%3D%0At%3D2Ecom%2Fimages%2Fnewsletter%2Fnewsletter-20151001%3D2Ejpg%3Fnl%3D3D20151001%22%20ali%3D%0Agn%3D3D%22right%22%20hspace%3D3D%2210%22%20alt%3D3D%22newsletter%20image%22%20%2F%3E%3C%2Fa%3E%3Cspan%20style%3D3D%3D%0A%22color%3A%20rgb%2834%2C%2034%2C%2034%29%3B%20font-family%3A%20arial%2C%20sans-serif%3B%20font-size%3A%20%3D20%3D%0A12%3D2E8px%3B%20font-style%3A%20normal%3B%20font-variant%3A%20normal%3B%20font-weight%3A%20norma%3D%0Al%3B%20letter-spacing%3A%20normal%3B%20line-height%3A%20normal%3B%20orphans%3A%20auto%3B%20text-al%3D%0Aign%3A%20start%3B%20text-indent%3A%200px%3B%20text-transform%3A%20none%3B%20white-space%3A%20norma%3D%0Al%3B%20widows%3A%201%3B%20word-spacing%3A%200px%3B%20-webkit-text-stroke-width%3A%200px%3B%20displ%3D%0Aay%3A%20inline%20%21important%3B%20float%3A%20none%3B%20background-color%3A%20rgb%28255%2C%20255%2C%2025%3D%0A5%29%3B%22%3EHi%20VanceFan%2C%3C%2Fspan%3E%3Cbr%20style%3D3D%22color%3A%20rgb%2834%2C%2034%2C%2034%29%3B%20font-fami%3D%0Aly%3A%20arial%2C%20sans-serif%3B%20font-size%3A%2012%3D2E8px%3B%20font-style%3A%20normal%3B%20font-v%3D%0Aariant%3A%20normal%3B%20font-weight%3A%20normal%3B%20letter-spacing%3A%20normal%3B%20line-heig%3D%0Aht%3A%20normal%3B%20orphans%3A%20auto%3B%20text-align%3A%20start%3B%20text-indent%3A%200px%3B%20text-t%3D%0Aransform%3A%20none%3B%20white-space%3A%20normal%3B%20widows%3A%201%3B%20word-spacing%3A%200px%3B%20-we%3D%0Abkit-text-stroke-width%3A%200px%3B%20background-color%3A%20rgb%28255%2C%20255%2C%20255%29%3B%22%20%2F%3E%3D%0A%3Cbr%20style%3D3D%22color%3A%20rgb%2834%2C%2034%2C%2034%29%3B%20font-family%3A%20arial%2C%20sans-serif%3B%20f%3D%0Aont-size%3A%2012%3D2E8px%3B%20font-style%3A%20normal%3B%20font-variant%3A%20normal%3B%20font-wei%3D%0Aght%3A%20normal%3B%20letter-spacing%3A%20normal%3B%20line-height%3A%20normal%3B%20orphans%3A%20aut%3D%0Ao%3B%20text-align%3A%20start%3B%20text-indent%3A%200px%3B%20text-transform%3A%20none%3B%20white-sp%3D%0Aace%3A%20normal%3B%20widows%3A%201%3B%20word-spacing%3A%200px%3B%20-webkit-text-stroke-width%3A%20%3D20%3D%0A0px%3B%20background-color%3A%20rgb%28255%2C%20255%2C%20255%29%3B%22%20%2F%3E%3Cspan%20style%3D3D%22color%3A%20rg%3D%0Ab%2834%2C%2034%2C%2034%29%3B%20font-family%3A%20arial%2C%20sans-serif%3B%20font-size%3A%2012%3D2E8px%3B%20fo%3D%0Ant-style%3A%20normal%3B%20font-variant%3A%20normal%3B%20font-weight%3A%20normal%3B%20letter-sp%3D%0Aacing%3A%20normal%3B%20line-height%3A%20normal%3B%20orphans%3A%20auto%3B%20text-align%3A%20start%3B%20%3D20%3D%0Atext-indent%3A%200px%3B%20text-transform%3A%20none%3B%20white-space%3A%20normal%3B%20widows%3A%201%3D%0A%3B%20word-spacing%3A%200px%3B%20-webkit-text-stroke-width%3A%200px%3B%20display%3A%20inline%20%21%3D%0Aimportant%3B%20float%3A%20none%3B%20background-color%3A%20rgb%28255%2C%20255%2C%20255%29%3B%22%3EI%20have%20%3D20%3D%0Afor%20you%20LILMiG%2C%20HCTBTB%2C%20SOS%2C%20and%20SNHP%3D2E%20Glossary%20below%3A%3C%2Fspan%3E%3Cbr%20sty%3D%0Ale%3D3D%22color%3A%20rgb%2834%2C%2034%2C%2034%29%3B%20font-family%3A%20arial%2C%20sans-serif%3B%20font-siz%3D%0Ae%3A%2012%3D2E8px%3B%20font-style%3A%20normal%3B%20font-variant%3A%20normal%3B%20font-weight%3A%20no%3D%0Armal%3B%20letter-spacing%3A%20normal%3B%20line-height%3A%20normal%3B%20orphans%3A%20auto%3B%20text%3D%0A-align%3A%20start%3B%20text-indent%3A%200px%3B%20text-transform%3A%20none%3B%20white-space%3A%20no%3D%0Armal%3B%20widows%3A%201%3B%20word-spacing%3A%200px%3B%20-webkit-text-stroke-width%3A%200px%3B%20ba%3D%0Ackground-color%3A%20rgb%28255%2C%20255%2C%20255%29%3B%22%20%2F%3E%3Cbr%20style%3D3D%22color%3A%20rgb%2834%2C%2034%2C%3D%0A%2034%29%3B%20font-family%3A%20arial%2C%20sans-serif%3B%20font-size%3A%2012%3D2E8px%3B%20font-style%3A%3D%0A%20normal%3B%20font-variant%3A%20normal%3B%20font-weight%3A%20normal%3B%20letter-spacing%3A%20no%3D%0Armal%3B%20line-height%3A%20normal%3B%20orphans%3A%20auto%3B%20text-align%3A%20start%3B%20text-inde%3D%0Ant%3A%200px%3B%20text-transform%3A%20none%3B%20white-space%3A%20normal%3B%20widows%3A%201%3B%20word-sp%3D%0Aacing%3A%200px%3B%20-webkit-text-stroke-width%3A%200px%3B%20background-color%3A%20rgb%28255%2C%3D%0A%20255%2C%20255%29%3B%22%20%2F%3E%3Cspan%20style%3D3D%22color%3A%20rgb%2834%2C%2034%2C%2034%29%3B%20font-family%3A%20ari%3D%0Aal%2C%20sans-serif%3B%20font-size%3A%2012%3D2E8px%3B%20font-style%3A%20normal%3B%20font-variant%3A%3D%0A%20normal%3B%20font-weight%3A%20normal%3B%20letter-spacing%3A%20normal%3B%20line-height%3A%20nor%3D%0Amal%3B%20orphans%3A%20auto%3B%20text-align%3A%20start%3B%20text-indent%3A%200px%3B%20text-transfor%3D%0Am%3A%20none%3B%20white-space%3A%20normal%3B%20widows%3A%201%3B%20word-spacing%3A%200px%3B%20-webkit-te%3D%0Axt-stroke-width%3A%200px%3B%20display%3A%20inline%20%21important%3B%20float%3A%20none%3B%20backgro%3D%0Aund-color%3A%20rgb%28255%2C%20255%2C%20255%29%3B%22%3E1%29%20Long%20Island%20Last%20Minute%20Gig%20%3D2E%3D2E%3D2E%3D%0A%20speaks%20for%20itself%20%3D2E%3D2E%3D2E%20great%20folks%3C%2Fspan%3E%3Cbr%20style%3D3D%22color%3A%20r%3D%0Agb%2834%2C%2034%2C%2034%29%3B%20font-family%3A%20arial%2C%20sans-serif%3B%20font-size%3A%2012%3D2E8px%3B%20f%3D%0Aont-style%3A%20normal%3B%20font-variant%3A%20normal%3B%20font-weight%3A%20normal%3B%20letter-s%3D%0Apacing%3A%20normal%3B%20line-height%3A%20normal%3B%20orphans%3A%20auto%3B%20text-align%3A%20start%3B%3D%0A%20text-indent%3A%200px%3B%20text-transform%3A%20none%3B%20white-space%3A%20normal%3B%20widows%3A%20%3D20%3D%0A1%3B%20word-spacing%3A%200px%3B%20-webkit-text-stroke-width%3A%200px%3B%20background-color%3D%0A%3A%20rgb%28255%2C%20255%2C%20255%29%3B%22%20%2F%3E%3Cbr%20style%3D3D%22color%3A%20rgb%2834%2C%2034%2C%2034%29%3B%20font-fam%3D%0Aily%3A%20arial%2C%20sans-serif%3B%20font-size%3A%2012%3D2E8px%3B%20font-style%3A%20normal%3B%20font-%3D%0Avariant%3A%20normal%3B%20font-weight%3A%20normal%3B%20letter-spacing%3A%20normal%3B%20line-hei%3D%0Aght%3A%20normal%3B%20orphans%3A%20auto%3B%20text-align%3A%20start%3B%20text-indent%3A%200px%3B%20text-%3D%0Atransform%3A%20none%3B%20white-space%3A%20normal%3B%20widows%3A%201%3B%20word-spacing%3A%200px%3B%20-w%3D%0Aebkit-text-stroke-width%3A%200px%3B%20background-color%3A%20rgb%28255%2C%20255%2C%20255%29%3B%22%20%2F%3D%0A%3E%3Cspan%20style%3D3D%22color%3A%20rgb%2834%2C%2034%2C%2034%29%3B%20font-family%3A%20arial%2C%20sans-serif%3D%0A%3B%20font-size%3A%2012%3D2E8px%3B%20font-style%3A%20normal%3B%20font-variant%3A%20normal%3B%20font-%3D%0Aweight%3A%20normal%3B%20letter-spacing%3A%20normal%3B%20line-height%3A%20normal%3B%20orphans%3A%20%3D20%3D%0Aauto%3B%20text-align%3A%20start%3B%20text-indent%3A%200px%3B%20text-transform%3A%20none%3B%20white%3D%0A-space%3A%20normal%3B%20widows%3A%201%3B%20word-spacing%3A%200px%3B%20-webkit-text-stroke-widt%3D%0Ah%3A%200px%3B%20display%3A%20inline%20%21important%3B%20float%3A%20none%3B%20background-color%3A%20rgb%3D%0A%28255%2C%20255%2C%20255%29%3B%22%3E2%29%20HCTBTB%20-%20House%20Concerts%20To%20Beat%20The%20Band%20%3D2E%3D2E%3D2E%3D%0A%20I%20heart%20these%3C%2Fspan%3E%3Cbr%20style%3D3D%22color%3A%20rgb%2834%2C%2034%2C%2034%29%3B%20font-family%3D%0A%3A%20arial%2C%20sans-serif%3B%20font-size%3A%2012%3D2E8px%3B%20font-style%3A%20normal%3B%20font-var%3D%0Aiant%3A%20normal%3B%20font-weight%3A%20normal%3B%20letter-spacing%3A%20normal%3B%20line-height%3D%0A%3A%20normal%3B%20orphans%3A%20auto%3B%20text-align%3A%20start%3B%20text-indent%3A%200px%3B%20text-tra%3D%0Ansform%3A%20none%3B%20white-space%3A%20normal%3B%20widows%3A%201%3B%20word-spacing%3A%200px%3B%20-webk%3D%0Ait-text-stroke-width%3A%200px%3B%20background-color%3A%20rgb%28255%2C%20255%2C%20255%29%3B%22%20%2F%3E%3Cb%3D%0Ar%20style%3D3D%22color%3A%20rgb%2834%2C%2034%2C%2034%29%3B%20font-family%3A%20arial%2C%20sans-serif%3B%20fon%3D%0At-size%3A%2012%3D2E8px%3B%20font-style%3A%20normal%3B%20font-variant%3A%20normal%3B%20font-weigh%3D%0At%3A%20normal%3B%20letter-spacing%3A%20normal%3B%20line-height%3A%20normal%3B%20orphans%3A%20auto%3B%3D%0A%20text-align%3A%20start%3B%20text-indent%3A%200px%3B%20text-transform%3A%20none%3B%20white-spac%3D%0Ae%3A%20normal%3B%20widows%3A%201%3B%20word-spacing%3A%200px%3B%20-webkit-text-stroke-width%3A%200p%3D%0Ax%3B%20background-color%3A%20rgb%28255%2C%20255%2C%20255%29%3B%22%20%2F%3E%3Cspan%20style%3D3D%22color%3A%20rgb%28%3D%0A34%2C%2034%2C%2034%29%3B%20font-family%3A%20arial%2C%20sans-serif%3B%20font-size%3A%2012%3D2E8px%3B%20font%3D%0A-style%3A%20normal%3B%20font-variant%3A%20normal%3B%20font-weight%3A%20normal%3B%20letter-spac%3D%0Aing%3A%20normal%3B%20line-height%3A%20normal%3B%20orphans%3A%20auto%3B%20text-align%3A%20start%3B%20te%3D%0Axt-indent%3A%200px%3B%20text-transform%3A%20none%3B%20white-space%3A%20normal%3B%20widows%3A%201%3B%20%3D20%3D%0Aword-spacing%3A%200px%3B%20-webkit-text-stroke-width%3A%200px%3B%20display%3A%20inline%20%21im%3D%0Aportant%3B%20float%3A%20none%3B%20background-color%3A%20rgb%28255%2C%20255%2C%20255%29%3B%22%3E3%29%20SOS%20-%20%3D20%3D%0ASubdudes%20Opening%20Slots%20%3D2E%3D2E%3D2E%20I%20love%20these%20too%21%21%3C%2Fspan%3E%3Cbr%20style%3D3D%3D%0A%22color%3A%20rgb%2834%2C%2034%2C%2034%29%3B%20font-family%3A%20arial%2C%20sans-serif%3B%20font-size%3A%2012%3D%0A%3D2E8px%3B%20font-style%3A%20normal%3B%20font-variant%3A%20normal%3B%20font-weight%3A%20normal%3B%3D%0A%20letter-spacing%3A%20normal%3B%20line-height%3A%20normal%3B%20orphans%3A%20auto%3B%20text-alig%3D%0An%3A%20start%3B%20text-indent%3A%200px%3B%20text-transform%3A%20none%3B%20white-space%3A%20normal%3B%3D%0A%20widows%3A%201%3B%20word-spacing%3A%200px%3B%20-webkit-text-stroke-width%3A%200px%3B%20backgro%3D%0Aund-color%3A%20rgb%28255%2C%20255%2C%20255%29%3B%22%20%2F%3E%3Cbr%20style%3D3D%22color%3A%20rgb%2834%2C%2034%2C%2034%29%3B%3D%0A%20font-family%3A%20arial%2C%20sans-serif%3B%20font-size%3A%2012%3D2E8px%3B%20font-style%3A%20norm%3D%0Aal%3B%20font-variant%3A%20normal%3B%20font-weight%3A%20normal%3B%20letter-spacing%3A%20normal%3B%3D%0A%20line-height%3A%20normal%3B%20orphans%3A%20auto%3B%20text-align%3A%20start%3B%20text-indent%3A%200%3D%0Apx%3B%20text-transform%3A%20none%3B%20white-space%3A%20normal%3B%20widows%3A%201%3B%20word-spacing%3D%0A%3A%200px%3B%20-webkit-text-stroke-width%3A%200px%3B%20background-color%3A%20rgb%28255%2C%20255%2C%3D%0A%20255%29%3B%22%20%2F%3E%3Cspan%20style%3D3D%22color%3A%20rgb%2834%2C%2034%2C%2034%29%3B%20font-family%3A%20arial%2C%20s%3D%0Aans-serif%3B%20font-size%3A%2012%3D2E8px%3B%20font-style%3A%20normal%3B%20font-variant%3A%20norm%3D%0Aal%3B%20font-weight%3A%20normal%3B%20letter-spacing%3A%20normal%3B%20line-height%3A%20normal%3B%20%3D20%3D%0Aorphans%3A%20auto%3B%20text-align%3A%20start%3B%20text-indent%3A%200px%3B%20text-transform%3A%20no%3D%0Ane%3B%20white-space%3A%20normal%3B%20widows%3A%201%3B%20word-spacing%3A%200px%3B%20-webkit-text-st%3D%0Aroke-width%3A%200px%3B%20display%3A%20inline%20%21important%3B%20float%3A%20none%3B%20background-c%3D%0Aolor%3A%20rgb%28255%2C%20255%2C%20255%29%3B%22%3E4%29%20SNHP%20-%20Short%20Notice%20Holiday%20Parties%20%3D2E%3D2E%3D%0A%20I%20play%20them%20less%20expensively%20than%20you%26%23039%3Bd%20think%3D2E%3Cspan%20class%3D3D%3D%0A%22Apple-converted-space%22%3E%26nbsp%3B%3C%2Fspan%3E%3C%2Fspan%3E%3Ca%20href%3D3D%22mailto%3Avance%40va%3D%0Ancegilbert%3D2Ecom%22%20style%3D3D%22color%3A%20rgb%2817%2C%2085%2C%20204%29%3B%20font-family%3A%20arial%3D%0A%2C%20sans-serif%3B%20font-size%3A%2012%3D2E8px%3B%20font-style%3A%20normal%3B%20font-variant%3A%20n%3D%0Aormal%3B%20font-weight%3A%20normal%3B%20letter-spacing%3A%20normal%3B%20line-height%3A%20norma%3D%0Al%3B%20orphans%3A%20auto%3B%20text-align%3A%20start%3B%20text-indent%3A%200px%3B%20text-transform%3A%3D%0A%20none%3B%20white-space%3A%20normal%3B%20widows%3A%201%3B%20word-spacing%3A%200px%3B%20-webkit-text%3D%0A-stroke-width%3A%200px%3B%20background-color%3A%20rgb%28255%2C%20255%2C%20255%29%3B%22%3Evance%40vance%3D%0Agilbert%3D2Ecom%3C%2Fa%3E%3Cspan%20style%3D3D%22color%3A%20rgb%2834%2C%2034%2C%2034%29%3B%20font-family%3A%20a%3D%0Arial%2C%20sans-serif%3B%20font-size%3A%2012%3D2E8px%3B%20font-style%3A%20normal%3B%20font-varian%3D%0At%3A%20normal%3B%20font-weight%3A%20normal%3B%20letter-spacing%3A%20normal%3B%20line-height%3A%20n%3D%0Aormal%3B%20orphans%3A%20auto%3B%20text-align%3A%20start%3B%20text-indent%3A%200px%3B%20text-transf%3D%0Aorm%3A%20none%3B%20white-space%3A%20normal%3B%20widows%3A%201%3B%20word-spacing%3A%200px%3B%20-webkit-%3D%0Atext-stroke-width%3A%200px%3B%20display%3A%20inline%20%21important%3B%20float%3A%20none%3B%20backg%3D%0Around-color%3A%20rgb%28255%2C%20255%2C%20255%29%3B%22%3E%3Cspan%20class%3D3D%22Apple-converted-space%3D%0A%22%3E%26nbsp%3B%3C%2Fspan%3Efor%20details%3D2E%20I%20have%202%20lined%20up%20so%20far%3D2E%20Nov%20%26amp%3B%20De%3D%0Ac%20are%20still%20pretty%20open%3D2E%3D2E%3D2E%3C%2Fspan%3E%3Cbr%20style%3D3D%22color%3A%20rgb%2834%2C%2034%2C%3D%0A%2034%29%3B%20font-family%3A%20arial%2C%20sans-serif%3B%20font-size%3A%2012%3D2E8px%3B%20font-style%3A%3D%0A%20normal%3B%20font-variant%3A%20normal%3B%20font-weight%3A%20normal%3B%20letter-spacing%3A%20no%3D%0Armal%3B%20line-height%3A%20normal%3B%20orphans%3A%20auto%3B%20text-align%3A%20start%3B%20text-inde%3D%0Ant%3A%200px%3B%20text-transform%3A%20none%3B%20white-space%3A%20normal%3B%20widows%3A%201%3B%20word-sp%3D%0Aacing%3A%200px%3B%20-webkit-text-stroke-width%3A%200px%3B%20background-color%3A%20rgb%28255%2C%3D%0A%20255%2C%20255%29%3B%22%20%2F%3E%3Cbr%20style%3D3D%22color%3A%20rgb%2834%2C%2034%2C%2034%29%3B%20font-family%3A%20arial%3D%0A%2C%20sans-serif%3B%20font-size%3A%2012%3D2E8px%3B%20font-style%3A%20normal%3B%20font-variant%3A%20n%3D%0Aormal%3B%20font-weight%3A%20normal%3B%20letter-spacing%3A%20normal%3B%20line-height%3A%20norma%3D%0Al%3B%20orphans%3A%20auto%3B%20text-align%3A%20start%3B%20text-indent%3A%200px%3B%20text-transform%3A%3D%0A%20none%3B%20white-space%3A%20normal%3B%20widows%3A%201%3B%20word-spacing%3A%200px%3B%20-webkit-text%3D%0A-stroke-width%3A%200px%3B%20background-color%3A%20rgb%28255%2C%20255%2C%20255%29%3B%22%20%2F%3E%3Cspan%20sty%3D%0Ale%3D3D%22color%3A%20rgb%2834%2C%2034%2C%2034%29%3B%20font-family%3A%20arial%2C%20sans-serif%3B%20font-siz%3D%0Ae%3A%2012%3D2E8px%3B%20font-style%3A%20normal%3B%20font-variant%3A%20normal%3B%20font-weight%3A%20no%3D%0Armal%3B%20letter-spacing%3A%20normal%3B%20line-height%3A%20normal%3B%20orphans%3A%20auto%3B%20text%3D%0A-align%3A%20start%3B%20text-indent%3A%200px%3B%20text-transform%3A%20none%3B%20white-space%3A%20no%3D%0Armal%3B%20widows%3A%201%3B%20word-spacing%3A%200px%3B%20-webkit-text-stroke-width%3A%200px%3B%20di%3D%0Asplay%3A%20inline%20%21important%3B%20float%3A%20none%3B%20background-color%3A%20rgb%28255%2C%20255%2C%3D%0A%20255%29%3B%22%3EThat%20all%20said%2C%20I%26%23039%3Bm%20here%3A%3C%2Fspan%3E%3Cbr%20style%3D3D%22color%3A%20rgb%2834%3D%0A%2C%2034%2C%2034%29%3B%20font-family%3A%20arial%2C%20sans-serif%3B%20font-size%3A%2012%3D2E8px%3B%20font-s%3D%0Atyle%3A%20normal%3B%20font-variant%3A%20normal%3B%20font-weight%3A%20normal%3B%20letter-spacin%3D%0Ag%3A%20normal%3B%20line-height%3A%20normal%3B%20orphans%3A%20auto%3B%20text-align%3A%20start%3B%20text%3D%0A-indent%3A%200px%3B%20text-transform%3A%20none%3B%20white-space%3A%20normal%3B%20widows%3A%201%3B%20wo%3D%0Ard-spacing%3A%200px%3B%20-webkit-text-stroke-width%3A%200px%3B%20background-color%3A%20rgb%3D%0A%28255%2C%20255%2C%20255%29%3B%22%20%2F%3E%3Cbr%20style%3D3D%22color%3A%20rgb%2834%2C%2034%2C%2034%29%3B%20font-family%3A%20%3D20%3D%0Aarial%2C%20sans-serif%3B%20font-size%3A%2012%3D2E8px%3B%20font-style%3A%20normal%3B%20font-varia%3D%0Ant%3A%20normal%3B%20font-weight%3A%20normal%3B%20letter-spacing%3A%20normal%3B%20line-height%3A%20%3D20%3D%0Anormal%3B%20orphans%3A%20auto%3B%20text-align%3A%20start%3B%20text-indent%3A%200px%3B%20text-trans%3D%0Aform%3A%20none%3B%20white-space%3A%20normal%3B%20widows%3A%201%3B%20word-spacing%3A%200px%3B%20-webkit%3D%0A-text-stroke-width%3A%200px%3B%20background-color%3A%20rgb%28255%2C%20255%2C%20255%29%3B%22%20%2F%3E%3Cspa%3D%0An%20style%3D3D%22color%3A%20rgb%2834%2C%2034%2C%2034%29%3B%20font-family%3A%20arial%2C%20sans-serif%3B%20fon%3D%0At-size%3A%2012%3D2E8px%3B%20font-style%3A%20normal%3B%20font-variant%3A%20normal%3B%20font-weigh%3D%0At%3A%20normal%3B%20letter-spacing%3A%20normal%3B%20line-height%3A%20normal%3B%20orphans%3A%20auto%3B%3D%0A%20text-align%3A%20start%3B%20text-indent%3A%200px%3B%20text-transform%3A%20none%3B%20white-spac%3D%0Ae%3A%20normal%3B%20widows%3A%201%3B%20word-spacing%3A%200px%3B%20-webkit-text-stroke-width%3A%200p%3D%0Ax%3B%20display%3A%20inline%20%21important%3B%20float%3A%20none%3B%20background-color%3A%20rgb%28255%2C%3D%0A%20255%2C%20255%29%3B%22%3ELONG%20ISLAND%20LAST%20MINUTE%20GIG%20%28LILMiG%29%3C%2Fspan%3E%3Cbr%20style%3D3D%22c%3D%0Aolor%3A%20rgb%2834%2C%2034%2C%2034%29%3B%20font-family%3A%20arial%2C%20sans-serif%3B%20font-size%3A%2012%3D2E%3D%0A8px%3B%20font-style%3A%20normal%3B%20font-variant%3A%20normal%3B%20font-weight%3A%20normal%3B%20l%3D%0Aetter-spacing%3A%20normal%3B%20line-height%3A%20normal%3B%20orphans%3A%20auto%3B%20text-align%3A%3D%0A%20start%3B%20text-indent%3A%200px%3B%20text-transform%3A%20none%3B%20white-space%3A%20normal%3B%20w%3D%0Aidows%3A%201%3B%20word-spacing%3A%200px%3B%20-webkit-text-stroke-width%3A%200px%3B%20backgroun%3D%0Ad-color%3A%20rgb%28255%2C%20255%2C%20255%29%3B%22%20%2F%3E%3Cspan%20class%3D3D%22aBn%22%20data-term%3D3D%22goog_%3D%0A182516750%22%20style%3D3D%22border-bottom-width%3A%201px%3B%20border-bottom-style%3A%20das%3D%0Ahed%3B%20border-bottom-color%3A%20rgb%28204%2C%20204%2C%20204%29%3B%20position%3A%20relative%3B%20top%3A%3D%0A%20-2px%3B%20z-index%3A%200%3B%20color%3A%20rgb%2834%2C%2034%2C%2034%29%3B%20font-family%3A%20arial%2C%20sans-se%3D%0Arif%3B%20font-size%3A%2012%3D2E8px%3B%20font-style%3A%20normal%3B%20font-variant%3A%20normal%3B%20fo%3D%0Ant-weight%3A%20normal%3B%20letter-spacing%3A%20normal%3B%20line-height%3A%20normal%3B%20orphan%3D%0As%3A%20auto%3B%20text-align%3A%20start%3B%20text-indent%3A%200px%3B%20text-transform%3A%20none%3B%20wh%3D%0Aite-space%3A%20normal%3B%20widows%3A%201%3B%20word-spacing%3A%200px%3B%20-webkit-text-stroke-w%3D%0Aidth%3A%200px%3B%20background-color%3A%20rgb%28255%2C%20255%2C%20255%29%3B%22%20tabindex%3D3D%220%22%3E%3Cspan%3D%0A%20class%3D3D%22aQJ%22%20style%3D3D%22position%3A%20relative%3B%20top%3A%202px%3B%20z-index%3A%20-1%3B%22%3ESa%3D%0Aturday%3C%2Fspan%3E%3C%2Fspan%3E%3Cspan%20style%3D3D%22color%3A%20rgb%2834%2C%2034%2C%2034%29%3B%20font-family%3D%0A%3A%20arial%2C%20sans-serif%3B%20font-size%3A%2012%3D2E8px%3B%20font-style%3A%20normal%3B%20font-var%3D%0Aiant%3A%20normal%3B%20font-weight%3A%20normal%3B%20letter-spacing%3A%20normal%3B%20line-height%3D%0A%3A%20normal%3B%20orphans%3A%20auto%3B%20text-align%3A%20start%3B%20text-indent%3A%200px%3B%20text-tra%3D%0Ansform%3A%20none%3B%20white-space%3A%20normal%3B%20widows%3A%201%3B%20word-spacing%3A%200px%3B%20-webk%3D%0Ait-text-stroke-width%3A%200px%3B%20display%3A%20inline%20%21important%3B%20float%3A%20none%3B%20ba%3D%0Ackground-color%3A%20rgb%28255%2C%20255%2C%20255%29%3B%22%3E%3Cspan%20class%3D3D%22Apple-converted-sp%3D%0Aace%22%3E%26nbsp%3B%3C%2Fspan%3E10%2F3%2F%20Folk%20Music%20Society%20of%20Huntington%3C%2Fspan%3E%3Cbr%20sty%3D%0Ale%3D3D%22color%3A%20rgb%2834%2C%2034%2C%2034%29%3B%20font-family%3A%20arial%2C%20sans-serif%3B%20font-siz%3D%0Ae%3A%2012%3D2E8px%3B%20font-style%3A%20normal%3B%20font-variant%3A%20normal%3B%20font-weight%3A%20no%3D%0Armal%3B%20letter-spacing%3A%20normal%3B%20line-height%3A%20normal%3B%20orphans%3A%20auto%3B%20text%3D%0A-align%3A%20start%3B%20text-indent%3A%200px%3B%20text-transform%3A%20none%3B%20white-space%3A%20no%3D%0Armal%3B%20widows%3A%201%3B%20word-spacing%3A%200px%3B%20-webkit-text-stroke-width%3A%200px%3B%20ba%3D%0Ackground-color%3A%20rgb%28255%2C%20255%2C%20255%29%3B%22%20%2F%3E%3Cspan%20style%3D3D%22color%3A%20rgb%2834%2C%203%3D%0A4%2C%2034%29%3B%20font-family%3A%20arial%2C%20sans-serif%3B%20font-size%3A%2012%3D2E8px%3B%20font-styl%3D%0Ae%3A%20normal%3B%20font-variant%3A%20normal%3B%20font-weight%3A%20normal%3B%20letter-spacing%3A%20%3D20%3D%0Anormal%3B%20line-height%3A%20normal%3B%20orphans%3A%20auto%3B%20text-align%3A%20start%3B%20text-in%3D%0Adent%3A%200px%3B%20text-transform%3A%20none%3B%20white-space%3A%20normal%3B%20widows%3A%201%3B%20word-%3D%0Aspacing%3A%200px%3B%20-webkit-text-stroke-width%3A%200px%3B%20display%3A%20inline%20%21importa%3D%0Ant%3B%20float%3A%20none%3B%20background-color%3A%20rgb%28255%2C%20255%2C%20255%29%3B%22%3ECongregational%3D%0A%20Church%20of%20Huntington%3C%2Fspan%3E%3Cbr%20style%3D3D%22color%3A%20rgb%2834%2C%2034%2C%2034%29%3B%20font-%3D%0Afamily%3A%20arial%2C%20sans-serif%3B%20font-size%3A%2012%3D2E8px%3B%20font-style%3A%20normal%3B%20fo%3D%0Ant-variant%3A%20normal%3B%20font-weight%3A%20normal%3B%20letter-spacing%3A%20normal%3B%20line-%3D%0Aheight%3A%20normal%3B%20orphans%3A%20auto%3B%20text-align%3A%20start%3B%20text-indent%3A%200px%3B%20te%3D%0Axt-transform%3A%20none%3B%20white-space%3A%20normal%3B%20widows%3A%201%3B%20word-spacing%3A%200px%3B%3D%0A%20-webkit-text-stroke-width%3A%200px%3B%20background-color%3A%20rgb%28255%2C%20255%2C%20255%29%3B%3D%0A%22%20%2F%3E%3Cspan%20style%3D3D%22color%3A%20rgb%2834%2C%2034%2C%2034%29%3B%20font-family%3A%20arial%2C%20sans-se%3D%0Arif%3B%20font-size%3A%2012%3D2E8px%3B%20font-style%3A%20normal%3B%20font-variant%3A%20normal%3B%20fo%3D%0Ant-weight%3A%20normal%3B%20letter-spacing%3A%20normal%3B%20line-height%3A%20normal%3B%20orphan%3D%0As%3A%20auto%3B%20text-align%3A%20start%3B%20text-indent%3A%200px%3B%20text-transform%3A%20none%3B%20wh%3D%0Aite-space%3A%20normal%3B%20widows%3A%201%3B%20word-spacing%3A%200px%3B%20-webkit-text-stroke-w%3D%0Aidth%3A%200px%3B%20display%3A%20inline%20%21important%3B%20float%3A%20none%3B%20background-color%3A%20%3D20%3D%0Argb%28255%2C%20255%2C%20255%29%3B%22%3E30%20Washington%20Drive%3C%2Fspan%3E%3Cbr%20style%3D3D%22color%3A%20rgb%3D%0A%2834%2C%2034%2C%2034%29%3B%20font-family%3A%20arial%2C%20sans-serif%3B%20font-size%3A%2012%3D2E8px%3B%20fon%3D%0At-style%3A%20normal%3B%20font-variant%3A%20normal%3B%20font-weight%3A%20normal%3B%20letter-spa%3D%0Acing%3A%20normal%3B%20line-height%3A%20normal%3B%20orphans%3A%20auto%3B%20text-align%3A%20start%3B%20t%3D%0Aext-indent%3A%200px%3B%20text-transform%3A%20none%3B%20white-space%3A%20normal%3B%20widows%3A%201%3B%3D%0A%20word-spacing%3A%200px%3B%20-webkit-text-stroke-width%3A%200px%3B%20background-color%3A%20%3D20%3D%0Argb%28255%2C%20255%2C%20255%29%3B%22%20%2F%3E%3Cspan%20style%3D3D%22color%3A%20rgb%2834%2C%2034%2C%2034%29%3B%20font-fam%3D%0Aily%3A%20arial%2C%20sans-serif%3B%20font-size%3A%2012%3D2E8px%3B%20font-style%3A%20normal%3B%20font-%3D%0Avariant%3A%20normal%3B%20font-weight%3A%20normal%3B%20letter-spacing%3A%20normal%3B%20line-hei%3D%0Aght%3A%20normal%3B%20orphans%3A%20auto%3B%20text-align%3A%20start%3B%20text-indent%3A%200px%3B%20text-%3D%0Atransform%3A%20none%3B%20white-space%3A%20normal%3B%20widows%3A%201%3B%20word-spacing%3A%200px%3B%20-w%3D%0Aebkit-text-stroke-width%3A%200px%3B%20display%3A%20inline%20%21important%3B%20float%3A%20none%3B%3D%0A%20background-color%3A%20rgb%28255%2C%20255%2C%20255%29%3B%22%3ECenterport%20%2C%20NY%3C%2Fspan%3E%3Cbr%20styl%3D%0Ae%3D3D%22color%3A%20rgb%2834%2C%2034%2C%2034%29%3B%20font-family%3A%20arial%2C%20sans-serif%3B%20font-size%3D%0A%3A%2012%3D2E8px%3B%20font-style%3A%20normal%3B%20font-variant%3A%20normal%3B%20font-weight%3A%20nor%3D%0Amal%3B%20letter-spacing%3A%20normal%3B%20line-height%3A%20normal%3B%20orphans%3A%20auto%3B%20text-%3D%0Aalign%3A%20start%3B%20text-indent%3A%200px%3B%20text-transform%3A%20none%3B%20white-space%3A%20nor%3D%0Amal%3B%20widows%3A%201%3B%20word-spacing%3A%200px%3B%20-webkit-text-stroke-width%3A%200px%3B%20bac%3D%0Akground-color%3A%20rgb%28255%2C%20255%2C%20255%29%3B%22%20%2F%3E%3Ca%20href%3D3D%22tel%3A631-425-2925%22%20sty%3D%0Ale%3D3D%22color%3A%20rgb%2817%2C%2085%2C%20204%29%3B%20font-family%3A%20arial%2C%20sans-serif%3B%20font-si%3D%0Aze%3A%2012%3D2E8px%3B%20font-style%3A%20normal%3B%20font-variant%3A%20normal%3B%20font-weight%3A%20n%3D%0Aormal%3B%20letter-spacing%3A%20normal%3B%20line-height%3A%20normal%3B%20orphans%3A%20auto%3B%20tex%3D%0At-align%3A%20start%3B%20text-indent%3A%200px%3B%20text-transform%3A%20none%3B%20white-space%3A%20n%3D%0Aormal%3B%20widows%3A%201%3B%20word-spacing%3A%200px%3B%20-webkit-text-stroke-width%3A%200px%3B%20b%3D%0Aackground-color%3A%20rgb%28255%2C%20255%2C%20255%29%3B%22%20value%3D3D%22%2B16314252925%22%3E631-425-2%3D%0A925%3C%2Fa%3E%3Cbr%20style%3D3D%22color%3A%20rgb%2834%2C%2034%2C%2034%29%3B%20font-family%3A%20arial%2C%20sans-s%3D%0Aerif%3B%20font-size%3A%2012%3D2E8px%3B%20font-style%3A%20normal%3B%20font-variant%3A%20normal%3B%20f%3D%0Aont-weight%3A%20normal%3B%20letter-spacing%3A%20normal%3B%20line-height%3A%20normal%3B%20orpha%3D%0Ans%3A%20auto%3B%20text-align%3A%20start%3B%20text-indent%3A%200px%3B%20text-transform%3A%20none%3B%20w%3D%0Ahite-space%3A%20normal%3B%20widows%3A%201%3B%20word-spacing%3A%200px%3B%20-webkit-text-stroke-%3D%0Awidth%3A%200px%3B%20background-color%3A%20rgb%28255%2C%20255%2C%20255%29%3B%22%20%2F%3E%3Ca%20href%3D3D%22http%3A%2F%3D%0A%2Ffmsh%3D2Eorg%2F%22%20rel%3D3D%22noreferrer%22%20style%3D3D%22color%3A%20rgb%2817%2C%2085%2C%20204%29%3B%20fon%3D%0At-family%3A%20arial%2C%20sans-serif%3B%20font-size%3A%2012%3D2E8px%3B%20font-style%3A%20normal%3B%20%3D20%3D%0Afont-variant%3A%20normal%3B%20font-weight%3A%20normal%3B%20letter-spacing%3A%20normal%3B%20lin%3D%0Ae-height%3A%20normal%3B%20orphans%3A%20auto%3B%20text-align%3A%20start%3B%20text-indent%3A%200px%3B%20%3D20%3D%0Atext-transform%3A%20none%3B%20white-space%3A%20normal%3B%20widows%3A%201%3B%20word-spacing%3A%200p%3D%0Ax%3B%20-webkit-text-stroke-width%3A%200px%3B%20background-color%3A%20rgb%28255%2C%20255%2C%20255%3D%0A%29%3B%22%20target%3D3D%22_blank%22%3Ehttp%3A%2F%2Ffmsh%3D2Eorg%3C%2Fa%3E%3Cbr%20style%3D3D%22color%3A%20rgb%2834%2C%3D%0A%2034%2C%2034%29%3B%20font-family%3A%20arial%2C%20sans-serif%3B%20font-size%3A%2012%3D2E8px%3B%20font-st%3D%0Ayle%3A%20normal%3B%20font-variant%3A%20normal%3B%20font-weight%3A%20normal%3B%20letter-spacing%3D%0A%3A%20normal%3B%20line-height%3A%20normal%3B%20orphans%3A%20auto%3B%20text-align%3A%20start%3B%20text-%3D%0Aindent%3A%200px%3B%20text-transform%3A%20none%3B%20white-space%3A%20normal%3B%20widows%3A%201%3B%20wor%3D%0Ad-spacing%3A%200px%3B%20-webkit-text-stroke-width%3A%200px%3B%20background-color%3A%20rgb%28%3D%0A255%2C%20255%2C%20255%29%3B%22%20%2F%3E%3Cbr%20style%3D3D%22color%3A%20rgb%2834%2C%2034%2C%2034%29%3B%20font-family%3A%20a%3D%0Arial%2C%20sans-serif%3B%20font-size%3A%2012%3D2E8px%3B%20font-style%3A%20normal%3B%20font-varian%3D%0At%3A%20normal%3B%20font-weight%3A%20normal%3B%20letter-spacing%3A%20normal%3B%20line-height%3A%20n%3D%0Aormal%3B%20orphans%3A%20auto%3B%20text-align%3A%20start%3B%20text-indent%3A%200px%3B%20text-transf%3D%0Aorm%3A%20none%3B%20white-space%3A%20normal%3B%20widows%3A%201%3B%20word-spacing%3A%200px%3B%20-webkit-%3D%0Atext-stroke-width%3A%200px%3B%20background-color%3A%20rgb%28255%2C%20255%2C%20255%29%3B%22%20%2F%3E%3Cspan%3D%0A%20style%3D3D%22color%3A%20rgb%2834%2C%2034%2C%2034%29%3B%20font-family%3A%20arial%2C%20sans-serif%3B%20font%3D%0A-size%3A%2012%3D2E8px%3B%20font-style%3A%20normal%3B%20font-variant%3A%20normal%3B%20font-weight%3D%0A%3A%20normal%3B%20letter-spacing%3A%20normal%3B%20line-height%3A%20normal%3B%20orphans%3A%20auto%3B%20%3D20%3D%0Atext-align%3A%20start%3B%20text-indent%3A%200px%3B%20text-transform%3A%20none%3B%20white-space%3D%0A%3A%20normal%3B%20widows%3A%201%3B%20word-spacing%3A%200px%3B%20-webkit-text-stroke-width%3A%200px%3D%0A%3B%20display%3A%20inline%20%21important%3B%20float%3A%20none%3B%20background-color%3A%20rgb%28255%2C%20%3D20%3D%0A255%2C%20255%29%3B%22%3EThese%20folks%20needed%20a%20folk%20performer%20in%20a%20hurry%20thanks%20to%20a%3D%0A%20Canadian%20act%20whose%20visa%20application%20fell%20apart%20%28good%20thing%20I%20have%20a%20b%3D%0Aeeper%20for%20folk%20emergencies%2C%20shown%29%3D2E%20Thanks%20FMSH%20for%20thinking%20of%20me%3D2E%3D%0A%3D2E%3D2EYou%26%23039%3Bre%20welcome%2C%20Long%20Island%21%21%20See%20you%20on%20the%203rd%21%21%3C%2Fspan%3E%3C%3D%0Abr%20%2F%3E%3Cbr%20style%3D3D%22color%3A%20rgb%2834%2C%2034%2C%2034%29%3B%20font-family%3A%20arial%2C%20sans-ser%3D%0Aif%3B%20font-size%3A%2012%3D2E8px%3B%20font-style%3A%20normal%3B%20font-variant%3A%20normal%3B%20fon%3D%0At-weight%3A%20normal%3B%20letter-spacing%3A%20normal%3B%20line-height%3A%20normal%3B%20orphans%3D%0A%3A%20auto%3B%20text-align%3A%20start%3B%20text-indent%3A%200px%3B%20text-transform%3A%20none%3B%20whi%3D%0Ate-space%3A%20normal%3B%20widows%3A%201%3B%20word-spacing%3A%200px%3B%20-webkit-text-stroke-wi%3D%0Adth%3A%200px%3B%20background-color%3A%20rgb%28255%2C%20255%2C%20255%29%3B%22%20%2F%3E%3Cspan%20style%3D3D%22colo%3D%0Ar%3A%20rgb%2834%2C%2034%2C%2034%29%3B%20font-family%3A%20arial%2C%20sans-serif%3B%20font-size%3A%2012%3D2E8p%3D%0Ax%3B%20font-style%3A%20normal%3B%20font-variant%3A%20normal%3B%20font-weight%3A%20normal%3B%20lett%3D%0Aer-spacing%3A%20normal%3B%20line-height%3A%20normal%3B%20orphans%3A%20auto%3B%20text-align%3A%20st%3D%0Aart%3B%20text-indent%3A%200px%3B%20text-transform%3A%20none%3B%20white-space%3A%20normal%3B%20wido%3D%0Aws%3A%201%3B%20word-spacing%3A%200px%3B%20-webkit-text-stroke-width%3A%200px%3B%20display%3A%20inl%3D%0Aine%20%21important%3B%20float%3A%20none%3B%20background-color%3A%20rgb%28255%2C%20255%2C%20255%29%3B%22%3E%26h%3D%0Aellip%3B%26hellip%3B%26hellip%3B%26hellip%3B%26hellip%3B%26hellip%3B%26hellip%3B%26hellip%3B%26hellip%3B%3D%0A%26hellip%3B%26hellip%3B%26hellip%3B%26hellip%3B%3C%2Fspan%3E%3Cbr%20style%3D3D%22color%3A%20rgb%2834%2C%2034%2C%3D%0A%2034%29%3B%20font-family%3A%20arial%2C%20sans-serif%3B%20font-size%3A%2012%3D2E8px%3B%20font-style%3A%3D%0A%20normal%3B%20font-variant%3A%20normal%3B%20font-weight%3A%20normal%3B%20letter-spacing%3A%20no%3D%0Armal%3B%20line-height%3A%20normal%3B%20orphans%3A%20auto%3B%20text-align%3A%20start%3B%20text-inde%3D%0Ant%3A%200px%3B%20text-transform%3A%20none%3B%20white-space%3A%20normal%3B%20widows%3A%201%3B%20word-sp%3D%0Aacing%3A%200px%3B%20-webkit-text-stroke-width%3A%200px%3B%20background-color%3A%20rgb%28255%2C%3D%0A%20255%2C%20255%29%3B%22%20%2F%3E%3Cbr%20style%3D3D%22color%3A%20rgb%2834%2C%2034%2C%2034%29%3B%20font-family%3A%20arial%3D%0A%2C%20sans-serif%3B%20font-size%3A%2012%3D2E8px%3B%20font-style%3A%20normal%3B%20font-variant%3A%20n%3D%0Aormal%3B%20font-weight%3A%20normal%3B%20letter-spacing%3A%20normal%3B%20line-height%3A%20norma%3D%0Al%3B%20orphans%3A%20auto%3B%20text-align%3A%20start%3B%20text-indent%3A%200px%3B%20text-transform%3A%3D%0A%20none%3B%20white-space%3A%20normal%3B%20widows%3A%201%3B%20word-spacing%3A%200px%3B%20-webkit-text%3D%0A-stroke-width%3A%200px%3B%20background-color%3A%20rgb%28255%2C%20255%2C%20255%29%3B%22%20%2F%3E%3Cspan%20cla%3D%0Ass%3D3D%22aBn%22%20data-term%3D3D%22goog_182516751%22%20style%3D3D%22border-bottom-width%3A%20%3D20%3D%0A1px%3B%20border-bottom-style%3A%20dashed%3B%20border-bottom-color%3A%20rgb%28204%2C%20204%2C%202%3D%0A04%29%3B%20position%3A%20relative%3B%20top%3A%20-2px%3B%20z-index%3A%200%3B%20color%3A%20rgb%2834%2C%2034%2C%2034%29%3D%0A%3B%20font-family%3A%20arial%2C%20sans-serif%3B%20font-size%3A%2012%3D2E8px%3B%20font-style%3A%20nor%3D%0Amal%3B%20font-variant%3A%20normal%3B%20font-weight%3A%20normal%3B%20letter-spacing%3A%20normal%3D%0A%3B%20line-height%3A%20normal%3B%20orphans%3A%20auto%3B%20text-align%3A%20start%3B%20text-indent%3A%20%3D20%3D%0A0px%3B%20text-transform%3A%20none%3B%20white-space%3A%20normal%3B%20widows%3A%201%3B%20word-spacin%3D%0Ag%3A%200px%3B%20-webkit-text-stroke-width%3A%200px%3B%20background-color%3A%20rgb%28255%2C%20255%3D%0A%2C%20255%29%3B%22%20tabindex%3D3D%220%22%3E%3Cspan%20class%3D3D%22aQJ%22%20style%3D3D%22position%3A%20relativ%3D%0Ae%3B%20top%3A%202px%3B%20z-index%3A%20-1%3B%22%3EWed%2010%2F14%3C%2Fspan%3E%3C%2Fspan%3E%3Cspan%20style%3D3D%22color%3D%0A%3A%20rgb%2834%2C%2034%2C%2034%29%3B%20font-family%3A%20arial%2C%20sans-serif%3B%20font-size%3A%2012%3D2E8px%3D%0A%3B%20font-style%3A%20normal%3B%20font-variant%3A%20normal%3B%20font-weight%3A%20normal%3B%20lette%3D%0Ar-spacing%3A%20normal%3B%20line-height%3A%20normal%3B%20orphans%3A%20auto%3B%20text-align%3A%20sta%3D%0Art%3B%20text-indent%3A%200px%3B%20text-transform%3A%20none%3B%20white-space%3A%20normal%3B%20widow%3D%0As%3A%201%3B%20word-spacing%3A%200px%3B%20-webkit-text-stroke-width%3A%200px%3B%20display%3A%20inli%3D%0Ane%20%21important%3B%20float%3A%20none%3B%20background-color%3A%20rgb%28255%2C%20255%2C%20255%29%3B%22%3E%26nb%3D%0Asp%3B%20Annapolis%20MD%2C%20W%2FThe%20Subdudes%3C%2Fspan%3E%3Cbr%20style%3D3D%22color%3A%20rgb%2834%2C%2034%2C%3D%0A%2034%29%3B%20font-family%3A%20arial%2C%20sans-serif%3B%20font-size%3A%2012%3D2E8px%3B%20font-style%3A%3D%0A%20normal%3B%20font-variant%3A%20normal%3B%20font-weight%3A%20normal%3B%20letter-spacing%3A%20no%3D%0Armal%3B%20line-height%3A%20normal%3B%20orphans%3A%20auto%3B%20text-align%3A%20start%3B%20text-inde%3D%0Ant%3A%200px%3B%20text-transform%3A%20none%3B%20white-space%3A%20normal%3B%20widows%3A%201%3B%20word-sp%3D%0Aacing%3A%200px%3B%20-webkit-text-stroke-width%3A%200px%3B%20background-color%3A%20rgb%28255%2C%3D%0A%20255%2C%20255%29%3B%22%20%2F%3E%3Cspan%20style%3D3D%22color%3A%20rgb%2834%2C%2034%2C%2034%29%3B%20font-family%3A%20ari%3D%0Aal%2C%20sans-serif%3B%20font-size%3A%2012%3D2E8px%3B%20font-style%3A%20normal%3B%20font-variant%3A%3D%0A%20normal%3B%20font-weight%3A%20normal%3B%20letter-spacing%3A%20normal%3B%20line-height%3A%20nor%3D%0Amal%3B%20orphans%3A%20auto%3B%20text-align%3A%20start%3B%20text-indent%3A%200px%3B%20text-transfor%3D%0Am%3A%20none%3B%20white-space%3A%20normal%3B%20widows%3A%201%3B%20word-spacing%3A%200px%3B%20-webkit-te%3D%0Axt-stroke-width%3A%200px%3B%20display%3A%20inline%20%21important%3B%20float%3A%20none%3B%20backgro%3D%0Aund-color%3A%20rgb%28255%2C%20255%2C%20255%29%3B%22%3ERams%20Head%20Onstage%3C%2Fspan%3E%3Cbr%20style%3D3D%22c%3D%0Aolor%3A%20rgb%2834%2C%2034%2C%2034%29%3B%20font-family%3A%20arial%2C%20sans-serif%3B%20font-size%3A%2012%3D2E%3D%0A8px%3B%20font-style%3A%20normal%3B%20font-variant%3A%20normal%3B%20font-weight%3A%20normal%3B%20l%3D%0Aetter-spacing%3A%20normal%3B%20line-height%3A%20normal%3B%20orphans%3A%20auto%3B%20text-align%3A%3D%0A%20start%3B%20text-indent%3A%200px%3B%20text-transform%3A%20none%3B%20white-space%3A%20normal%3B%20w%3D%0Aidows%3A%201%3B%20word-spacing%3A%200px%3B%20-webkit-text-stroke-width%3A%200px%3B%20backgroun%3D%0Ad-color%3A%20rgb%28255%2C%20255%2C%20255%29%3B%22%20%2F%3E%3Cspan%20style%3D3D%22color%3A%20rgb%2834%2C%2034%2C%2034%29%3B%3D%0A%20font-family%3A%20arial%2C%20sans-serif%3B%20font-size%3A%2012%3D2E8px%3B%20font-style%3A%20norm%3D%0Aal%3B%20font-variant%3A%20normal%3B%20font-weight%3A%20normal%3B%20letter-spacing%3A%20normal%3B%3D%0A%20line-height%3A%20normal%3B%20orphans%3A%20auto%3B%20text-align%3A%20start%3B%20text-indent%3A%200%3D%0Apx%3B%20text-transform%3A%20none%3B%20white-space%3A%20normal%3B%20widows%3A%201%3B%20word-spacing%3D%0A%3A%200px%3B%20-webkit-text-stroke-width%3A%200px%3B%20display%3A%20inline%20%21important%3B%20flo%3D%0Aat%3A%20none%3B%20background-color%3A%20rgb%28255%2C%20255%2C%20255%29%3B%22%3E33%20West%20Street%2C%20Annap%3D%0Aolis%2C%20MD%3C%2Fspan%3E%3Cbr%20style%3D3D%22color%3A%20rgb%2834%2C%2034%2C%2034%29%3B%20font-family%3A%20arial%3D%0A%2C%20sans-serif%3B%20font-size%3A%2012%3D2E8px%3B%20font-style%3A%20normal%3B%20font-variant%3A%20n%3D%0Aormal%3B%20font-weight%3A%20normal%3B%20letter-spacing%3A%20normal%3B%20line-height%3A%20norma%3D%0Al%3B%20orphans%3A%20auto%3B%20text-align%3A%20start%3B%20text-indent%3A%200px%3B%20text-transform%3A%3D%0A%20none%3B%20white-space%3A%20normal%3B%20widows%3A%201%3B%20word-spacing%3A%200px%3B%20-webkit-text%3D%0A-stroke-width%3A%200px%3B%20background-color%3A%20rgb%28255%2C%20255%2C%20255%29%3B%22%20%2F%3E%3Ca%20href%3D3D%3D%0A%22tel%3A410-268-4545%22%20style%3D3D%22color%3A%20rgb%2817%2C%2085%2C%20204%29%3B%20font-family%3A%20ari%3D%0Aal%2C%20sans-serif%3B%20font-size%3A%2012%3D2E8px%3B%20font-style%3A%20normal%3B%20font-variant%3A%3D%0A%20normal%3B%20font-weight%3A%20normal%3B%20letter-spacing%3A%20normal%3B%20line-height%3A%20nor%3D%0Amal%3B%20orphans%3A%20auto%3B%20text-align%3A%20start%3B%20text-indent%3A%200px%3B%20text-transfor%3D%0Am%3A%20none%3B%20white-space%3A%20normal%3B%20widows%3A%201%3B%20word-spacing%3A%200px%3B%20-webkit-te%3D%0Axt-stroke-width%3A%200px%3B%20background-color%3A%20rgb%28255%2C%20255%2C%20255%29%3B%22%20value%3D3D%22%3D%0A%2B14102684545%22%3E410-268-4545%3C%2Fa%3E%3Cbr%20style%3D3D%22color%3A%20rgb%2834%2C%2034%2C%2034%29%3B%20fon%3D%0At-family%3A%20arial%2C%20sans-serif%3B%20font-size%3A%2012%3D2E8px%3B%20font-style%3A%20normal%3B%20%3D20%3D%0Afont-variant%3A%20normal%3B%20font-weight%3A%20normal%3B%20letter-spacing%3A%20normal%3B%20lin%3D%0Ae-height%3A%20normal%3B%20orphans%3A%20auto%3B%20text-align%3A%20start%3B%20text-indent%3A%200px%3B%20%3D20%3D%0Atext-transform%3A%20none%3B%20white-space%3A%20normal%3B%20widows%3A%201%3B%20word-spacing%3A%200p%3D%0Ax%3B%20-webkit-text-stroke-width%3A%200px%3B%20background-color%3A%20rgb%28255%2C%20255%2C%20255%3D%0A%29%3B%22%20%2F%3E%3Ca%20href%3D3D%22http%3A%2F%2Fwww%3D2Eramsheadonstage%3D2Ecom%2F%22%20rel%3D3D%22noreferre%3D%0Ar%22%20style%3D3D%22color%3A%20rgb%2817%2C%2085%2C%20204%29%3B%20font-family%3A%20arial%2C%20sans-serif%3B%20f%3D%0Aont-size%3A%2012%3D2E8px%3B%20font-style%3A%20normal%3B%20font-variant%3A%20normal%3B%20font-wei%3D%0Aght%3A%20normal%3B%20letter-spacing%3A%20normal%3B%20line-height%3A%20normal%3B%20orphans%3A%20aut%3D%0Ao%3B%20text-align%3A%20start%3B%20text-indent%3A%200px%3B%20text-transform%3A%20none%3B%20white-sp%3D%0Aace%3A%20normal%3B%20widows%3A%201%3B%20word-spacing%3A%200px%3B%20-webkit-text-stroke-width%3A%20%3D20%3D%0A0px%3B%20background-color%3A%20rgb%28255%2C%20255%2C%20255%29%3B%22%20target%3D3D%22_blank%22%3Ewww%3D2Era%3D%0Amsheadonstage%3D2Ecom%3C%2Fa%3E%3Cbr%20style%3D3D%22color%3A%20rgb%2834%2C%2034%2C%2034%29%3B%20font-famil%3D%0Ay%3A%20arial%2C%20sans-serif%3B%20font-size%3A%2012%3D2E8px%3B%20font-style%3A%20normal%3B%20font-va%3D%0Ariant%3A%20normal%3B%20font-weight%3A%20normal%3B%20letter-spacing%3A%20normal%3B%20line-heigh%3D%0At%3A%20normal%3B%20orphans%3A%20auto%3B%20text-align%3A%20start%3B%20text-indent%3A%200px%3B%20text-tr%3D%0Aansform%3A%20none%3B%20white-space%3A%20normal%3B%20widows%3A%201%3B%20word-spacing%3A%200px%3B%20-web%3D%0Akit-text-stroke-width%3A%200px%3B%20background-color%3A%20rgb%28255%2C%20255%2C%20255%29%3B%22%20%2F%3E%3C%3D%0Abr%20style%3D3D%22color%3A%20rgb%2834%2C%2034%2C%2034%29%3B%20font-family%3A%20arial%2C%20sans-serif%3B%20fo%3D%0Ant-size%3A%2012%3D2E8px%3B%20font-style%3A%20normal%3B%20font-variant%3A%20normal%3B%20font-weig%3D%0Aht%3A%20normal%3B%20letter-spacing%3A%20normal%3B%20line-height%3A%20normal%3B%20orphans%3A%20auto%3D%0A%3B%20text-align%3A%20start%3B%20text-indent%3A%200px%3B%20text-transform%3A%20none%3B%20white-spa%3D%0Ace%3A%20normal%3B%20widows%3A%201%3B%20word-spacing%3A%200px%3B%20-webkit-text-stroke-width%3A%200%3D%0Apx%3B%20background-color%3A%20rgb%28255%2C%20255%2C%20255%29%3B%22%20%2F%3E%3Cspan%20style%3D3D%22color%3A%20rgb%3D%0A%2834%2C%2034%2C%2034%29%3B%20font-family%3A%20arial%2C%20sans-serif%3B%20font-size%3A%2012%3D2E8px%3B%20fon%3D%0At-style%3A%20normal%3B%20font-variant%3A%20normal%3B%20font-weight%3A%20normal%3B%20letter-spa%3D%0Acing%3A%20normal%3B%20line-height%3A%20normal%3B%20orphans%3A%20auto%3B%20text-align%3A%20start%3B%20t%3D%0Aext-indent%3A%200px%3B%20text-transform%3A%20none%3B%20white-space%3A%20normal%3B%20widows%3A%201%3B%3D%0A%20word-spacing%3A%200px%3B%20-webkit-text-stroke-width%3A%200px%3B%20display%3A%20inline%20%21i%3D%0Amportant%3B%20float%3A%20none%3B%20background-color%3A%20rgb%28255%2C%20255%2C%20255%29%3B%22%3ETHEN%3C%2Fsp%3D%0Aan%3E%3Cbr%20style%3D3D%22color%3A%20rgb%2834%2C%2034%2C%2034%29%3B%20font-family%3A%20arial%2C%20sans-serif%3D%0A%3B%20font-size%3A%2012%3D2E8px%3B%20font-style%3A%20normal%3B%20font-variant%3A%20normal%3B%20font-%3D%0Aweight%3A%20normal%3B%20letter-spacing%3A%20normal%3B%20line-height%3A%20normal%3B%20orphans%3A%20%3D20%3D%0Aauto%3B%20text-align%3A%20start%3B%20text-indent%3A%200px%3B%20text-transform%3A%20none%3B%20white%3D%0A-space%3A%20normal%3B%20widows%3A%201%3B%20word-spacing%3A%200px%3B%20-webkit-text-stroke-widt%3D%0Ah%3A%200px%3B%20background-color%3A%20rgb%28255%2C%20255%2C%20255%29%3B%22%20%2F%3E%3Cbr%20style%3D3D%22color%3A%20r%3D%0Agb%2834%2C%2034%2C%2034%29%3B%20font-family%3A%20arial%2C%20sans-serif%3B%20font-size%3A%2012%3D2E8px%3B%20f%3D%0Aont-style%3A%20normal%3B%20font-variant%3A%20normal%3B%20font-weight%3A%20normal%3B%20letter-s%3D%0Apacing%3A%20normal%3B%20line-height%3A%20normal%3B%20orphans%3A%20auto%3B%20text-align%3A%20start%3B%3D%0A%20text-indent%3A%200px%3B%20text-transform%3A%20none%3B%20white-space%3A%20normal%3B%20widows%3A%20%3D20%3D%0A1%3B%20word-spacing%3A%200px%3B%20-webkit-text-stroke-width%3A%200px%3B%20background-color%3D%0A%3A%20rgb%28255%2C%20255%2C%20255%29%3B%22%20%2F%3E%3Cspan%20class%3D3D%22aBn%22%20data-term%3D3D%22goog_1825167%3D%0A52%22%20style%3D3D%22border-bottom-width%3A%201px%3B%20border-bottom-style%3A%20dashed%3B%20bo%3D%0Arder-bottom-color%3A%20rgb%28204%2C%20204%2C%20204%29%3B%20position%3A%20relative%3B%20top%3A%20-2px%3B%20%3D20%3D%0Az-index%3A%200%3B%20color%3A%20rgb%2834%2C%2034%2C%2034%29%3B%20font-family%3A%20arial%2C%20sans-serif%3B%20fo%3D%0Ant-size%3A%2012%3D2E8px%3B%20font-style%3A%20normal%3B%20font-variant%3A%20normal%3B%20font-weig%3D%0Aht%3A%20normal%3B%20letter-spacing%3A%20normal%3B%20line-height%3A%20normal%3B%20orphans%3A%20auto%3D%0A%3B%20text-align%3A%20start%3B%20text-indent%3A%200px%3B%20text-transform%3A%20none%3B%20white-spa%3D%0Ace%3A%20normal%3B%20widows%3A%201%3B%20word-spacing%3A%200px%3B%20-webkit-text-stroke-width%3A%200%3D%0Apx%3B%20background-color%3A%20rgb%28255%2C%20255%2C%20255%29%3B%22%20tabindex%3D3D%220%22%3E%3Cspan%20class%3D3D%3D%0A%22aQJ%22%20style%3D3D%22position%3A%20relative%3B%20top%3A%202px%3B%20z-index%3A%20-1%3B%22%3EThur%2010%2F1%3D%0A5%3C%2Fspan%3E%3C%2Fspan%3E%3Cspan%20style%3D3D%22color%3A%20rgb%2834%2C%2034%2C%2034%29%3B%20font-family%3A%20ari%3D%0Aal%2C%20sans-serif%3B%20font-size%3A%2012%3D2E8px%3B%20font-style%3A%20normal%3B%20font-variant%3A%3D%0A%20normal%3B%20font-weight%3A%20normal%3B%20letter-spacing%3A%20normal%3B%20line-height%3A%20nor%3D%0Amal%3B%20orphans%3A%20auto%3B%20text-align%3A%20start%3B%20text-indent%3A%200px%3B%20text-transfor%3D%0Am%3A%20none%3B%20white-space%3A%20normal%3B%20widows%3A%201%3B%20word-spacing%3A%200px%3B%20-webkit-te%3D%0Axt-stroke-width%3A%200px%3B%20display%3A%20inline%20%21important%3B%20float%3A%20none%3B%20backgro%3D%0Aund-color%3A%20rgb%28255%2C%20255%2C%20255%29%3B%22%3E%3Cspan%20class%3D3D%22Apple-converted-space%22%3E%3D%0A%26nbsp%3B%3C%2Fspan%3EAlexandria%2C%20VA%2C%20W%2F%20The%20Subdudes%3C%2Fspan%3E%3Cbr%20style%3D3D%22color%3A%3D%0A%20rgb%2834%2C%2034%2C%2034%29%3B%20font-family%3A%20arial%2C%20sans-serif%3B%20font-size%3A%2012%3D2E8px%3B%3D%0A%20font-style%3A%20normal%3B%20font-variant%3A%20normal%3B%20font-weight%3A%20normal%3B%20letter%3D%0A-spacing%3A%20normal%3B%20line-height%3A%20normal%3B%20orphans%3A%20auto%3B%20text-align%3A%20star%3D%0At%3B%20text-indent%3A%200px%3B%20text-transform%3A%20none%3B%20white-space%3A%20normal%3B%20widows%3D%0A%3A%201%3B%20word-spacing%3A%200px%3B%20-webkit-text-stroke-width%3A%200px%3B%20background-col%3D%0Aor%3A%20rgb%28255%2C%20255%2C%20255%29%3B%22%20%2F%3E%3Cspan%20style%3D3D%22color%3A%20rgb%2834%2C%2034%2C%2034%29%3B%20font%3D%0A-family%3A%20arial%2C%20sans-serif%3B%20font-size%3A%2012%3D2E8px%3B%20font-style%3A%20normal%3B%20f%3D%0Aont-variant%3A%20normal%3B%20font-weight%3A%20normal%3B%20letter-spacing%3A%20normal%3B%20line%3D%0A-height%3A%20normal%3B%20orphans%3A%20auto%3B%20text-align%3A%20start%3B%20text-indent%3A%200px%3B%20t%3D%0Aext-transform%3A%20none%3B%20white-space%3A%20normal%3B%20widows%3A%201%3B%20word-spacing%3A%200px%3D%0A%3B%20-webkit-text-stroke-width%3A%200px%3B%20display%3A%20inline%20%21important%3B%20float%3A%20n%3D%0Aone%3B%20background-color%3A%20rgb%28255%2C%20255%2C%20255%29%3B%22%3EThe%20Birchmere%3C%2Fspan%3E%3Cbr%20st%3D%0Ayle%3D3D%22color%3A%20rgb%2834%2C%2034%2C%2034%29%3B%20font-family%3A%20arial%2C%20sans-serif%3B%20font-si%3D%0Aze%3A%2012%3D2E8px%3B%20font-style%3A%20normal%3B%20font-variant%3A%20normal%3B%20font-weight%3A%20n%3D%0Aormal%3B%20letter-spacing%3A%20normal%3B%20line-height%3A%20normal%3B%20orphans%3A%20auto%3B%20tex%3D%0At-align%3A%20start%3B%20text-indent%3A%200px%3B%20text-transform%3A%20none%3B%20white-space%3A%20n%3D%0Aormal%3B%20widows%3A%201%3B%20word-spacing%3A%200px%3B%20-webkit-text-stroke-width%3A%200px%3B%20b%3D%0Aackground-color%3A%20rgb%28255%2C%20255%2C%20255%29%3B%22%20%2F%3E%3Cspan%20style%3D3D%22color%3A%20rgb%2834%2C%20%3D20%3D%0A34%2C%2034%29%3B%20font-family%3A%20arial%2C%20sans-serif%3B%20font-size%3A%2012%3D2E8px%3B%20font-sty%3D%0Ale%3A%20normal%3B%20font-variant%3A%20normal%3B%20font-weight%3A%20normal%3B%20letter-spacing%3A%3D%0A%20normal%3B%20line-height%3A%20normal%3B%20orphans%3A%20auto%3B%20text-align%3A%20start%3B%20text-i%3D%0Andent%3A%200px%3B%20text-transform%3A%20none%3B%20white-space%3A%20normal%3B%20widows%3A%201%3B%20word%3D%0A-spacing%3A%200px%3B%20-webkit-text-stroke-width%3A%200px%3B%20display%3A%20inline%20%21import%3D%0Aant%3B%20float%3A%20none%3B%20background-color%3A%20rgb%28255%2C%20255%2C%20255%29%3B%22%3E3701%20Mt%3D2E%20Ve%3D%0Arnon%20Avenue%2C%20Alexandria%2C%20VA%3C%2Fspan%3E%3Cbr%20style%3D3D%22color%3A%20rgb%2834%2C%2034%2C%2034%29%3B%3D%0A%20font-family%3A%20arial%2C%20sans-serif%3B%20font-size%3A%2012%3D2E8px%3B%20font-style%3A%20norm%3D%0Aal%3B%20font-variant%3A%20normal%3B%20font-weight%3A%20normal%3B%20letter-spacing%3A%20normal%3B%3D%0A%20line-height%3A%20normal%3B%20orphans%3A%20auto%3B%20text-align%3A%20start%3B%20text-indent%3A%200%3D%0Apx%3B%20text-transform%3A%20none%3B%20white-space%3A%20normal%3B%20widows%3A%201%3B%20word-spacing%3D%0A%3A%200px%3B%20-webkit-text-stroke-width%3A%200px%3B%20background-color%3A%20rgb%28255%2C%20255%2C%3D%0A%20255%29%3B%22%20%2F%3E%3Ca%20href%3D3D%22tel%3A703-549-7500%22%20style%3D3D%22color%3A%20rgb%2817%2C%2085%2C%20204%3D%0A%29%3B%20font-family%3A%20arial%2C%20sans-serif%3B%20font-size%3A%2012%3D2E8px%3B%20font-style%3A%20no%3D%0Armal%3B%20font-variant%3A%20normal%3B%20font-weight%3A%20normal%3B%20letter-spacing%3A%20norma%3D%0Al%3B%20line-height%3A%20normal%3B%20orphans%3A%20auto%3B%20text-align%3A%20start%3B%20text-indent%3A%3D%0A%200px%3B%20text-transform%3A%20none%3B%20white-space%3A%20normal%3B%20widows%3A%201%3B%20word-spaci%3D%0Ang%3A%200px%3B%20-webkit-text-stroke-width%3A%200px%3B%20background-color%3A%20rgb%28255%2C%2025%3D%0A5%2C%20255%29%3B%22%20value%3D3D%22%2B17035497500%22%3E703-549-7500%3C%2Fa%3E%3Cbr%20style%3D3D%22color%3A%20r%3D%0Agb%2834%2C%2034%2C%2034%29%3B%20font-family%3A%20arial%2C%20sans-serif%3B%20font-size%3A%2012%3D2E8px%3B%20f%3D%0Aont-style%3A%20normal%3B%20font-variant%3A%20normal%3B%20font-weight%3A%20normal%3B%20letter-s%3D%0Apacing%3A%20normal%3B%20line-height%3A%20normal%3B%20orphans%3A%20auto%3B%20text-align%3A%20start%3B%3D%0A%20text-indent%3A%200px%3B%20text-transform%3A%20none%3B%20white-space%3A%20normal%3B%20widows%3A%20%3D20%3D%0A1%3B%20word-spacing%3A%200px%3B%20-webkit-text-stroke-width%3A%200px%3B%20background-color%3D%0A%3A%20rgb%28255%2C%20255%2C%20255%29%3B%22%20%2F%3E%3Ca%20href%3D3D%22http%3A%2F%2Fwww%3D2Ebirchmere%3D2Ecom%2F%22%20rel%3D%0A%3D3D%22noreferrer%22%20style%3D3D%22color%3A%20rgb%2817%2C%2085%2C%20204%29%3B%20font-family%3A%20arial%2C%20%3D20%3D%0Asans-serif%3B%20font-size%3A%2012%3D2E8px%3B%20font-style%3A%20normal%3B%20font-variant%3A%20nor%3D%0Amal%3B%20font-weight%3A%20normal%3B%20letter-spacing%3A%20normal%3B%20line-height%3A%20normal%3B%3D%0A%20orphans%3A%20auto%3B%20text-align%3A%20start%3B%20text-indent%3A%200px%3B%20text-transform%3A%20n%3D%0Aone%3B%20white-space%3A%20normal%3B%20widows%3A%201%3B%20word-spacing%3A%200px%3B%20-webkit-text-s%3D%0Atroke-width%3A%200px%3B%20background-color%3A%20rgb%28255%2C%20255%2C%20255%29%3B%22%20target%3D3D%22_bl%3D%0Aank%22%3Ewww%3D2Ebirchmere%3D2Ecom%3C%2Fa%3E%3Cbr%20style%3D3D%22color%3A%20rgb%2834%2C%2034%2C%2034%29%3B%20fon%3D%0At-family%3A%20arial%2C%20sans-serif%3B%20font-size%3A%2012%3D2E8px%3B%20font-style%3A%20normal%3B%20%3D20%3D%0Afont-variant%3A%20normal%3B%20font-weight%3A%20normal%3B%20letter-spacing%3A%20normal%3B%20lin%3D%0Ae-height%3A%20normal%3B%20orphans%3A%20auto%3B%20text-align%3A%20start%3B%20text-indent%3A%200px%3B%20%3D20%3D%0Atext-transform%3A%20none%3B%20white-space%3A%20normal%3B%20widows%3A%201%3B%20word-spacing%3A%200p%3D%0Ax%3B%20-webkit-text-stroke-width%3A%200px%3B%20background-color%3A%20rgb%28255%2C%20255%2C%20255%3D%0A%29%3B%22%20%2F%3E%3Cbr%20style%3D3D%22color%3A%20rgb%2834%2C%2034%2C%2034%29%3B%20font-family%3A%20arial%2C%20sans-se%3D%0Arif%3B%20font-size%3A%2012%3D2E8px%3B%20font-style%3A%20normal%3B%20font-variant%3A%20normal%3B%20fo%3D%0Ant-weight%3A%20normal%3B%20letter-spacing%3A%20normal%3B%20line-height%3A%20normal%3B%20orphan%3D%0As%3A%20auto%3B%20text-align%3A%20start%3B%20text-indent%3A%200px%3B%20text-transform%3A%20none%3B%20wh%3D%0Aite-space%3A%20normal%3B%20widows%3A%201%3B%20word-spacing%3A%200px%3B%20-webkit-text-stroke-w%3D%0Aidth%3A%200px%3B%20background-color%3A%20rgb%28255%2C%20255%2C%20255%29%3B%22%20%2F%3E%3Cspan%20style%3D3D%22col%3D%0Aor%3A%20rgb%2834%2C%2034%2C%2034%29%3B%20font-family%3A%20arial%2C%20sans-serif%3B%20font-size%3A%2012%3D2E8%3D%0Apx%3B%20font-style%3A%20normal%3B%20font-variant%3A%20normal%3B%20font-weight%3A%20normal%3B%20let%3D%0Ater-spacing%3A%20normal%3B%20line-height%3A%20normal%3B%20orphans%3A%20auto%3B%20text-align%3A%20s%3D%0Atart%3B%20text-indent%3A%200px%3B%20text-transform%3A%20none%3B%20white-space%3A%20normal%3B%20wid%3D%0Aows%3A%201%3B%20word-spacing%3A%200px%3B%20-webkit-text-stroke-width%3A%200px%3B%20display%3A%20in%3D%0Aline%20%21important%3B%20float%3A%20none%3B%20background-color%3A%20rgb%28255%2C%20255%2C%20255%29%3B%22%3EW%3D%0Ahen%20I%20first%20heard%20them%20on%20Shawn%20Colvin%26%23039%3Bs%20Fat%20City%20album%2C%20I%20wanted%3D%0A%20to%20meet%20them%3D2E%20When%20I%20met%20them%2C%20I%20wanted%20one%20day%20to%20open%20for%20them%3D2E%3D%0A%20Now%20that%20I%20have%20been%20kinda%20consistently%20opening%20for%20them%2C%20I%20wondered%20%3D20%3D%0Awhat%20it%26%23039%3Bs%20like%20to%20sing%20with%20them%3D2E%20Guess%20what%20happens%20on%20some%20of%3D%0A%20their%20encores%3D2E%3F%20We%20have%20become%20fast%20friends%2C%20all%20to%20my%20benefit%2C%20as%20%3D20%3D%0AI%20learn%20from%20them%20nightly%3D2E%20Come%20see%20us%20on%20this%20mini%20tour%3D2E%3D2E%3D2E%3C%2Fs%3D%0Apan%3E%3Cbr%20style%3D3D%22color%3A%20rgb%2834%2C%2034%2C%2034%29%3B%20font-family%3A%20arial%2C%20sans-seri%3D%0Af%3B%20font-size%3A%2012%3D2E8px%3B%20font-style%3A%20normal%3B%20font-variant%3A%20normal%3B%20font%3D%0A-weight%3A%20normal%3B%20letter-spacing%3A%20normal%3B%20line-height%3A%20normal%3B%20orphans%3A%3D%0A%20auto%3B%20text-align%3A%20start%3B%20text-indent%3A%200px%3B%20text-transform%3A%20none%3B%20whit%3D%0Ae-space%3A%20normal%3B%20widows%3A%201%3B%20word-spacing%3A%200px%3B%20-webkit-text-stroke-wid%3D%0Ath%3A%200px%3B%20background-color%3A%20rgb%28255%2C%20255%2C%20255%29%3B%22%20%2F%3E%3Cbr%20style%3D3D%22color%3A%20%3D20%3D%0Argb%2834%2C%2034%2C%2034%29%3B%20font-family%3A%20arial%2C%20sans-serif%3B%20font-size%3A%2012%3D2E8px%3B%20%3D20%3D%0Afont-style%3A%20normal%3B%20font-variant%3A%20normal%3B%20font-weight%3A%20normal%3B%20letter-%3D%0Aspacing%3A%20normal%3B%20line-height%3A%20normal%3B%20orphans%3A%20auto%3B%20text-align%3A%20start%3D%0A%3B%20text-indent%3A%200px%3B%20text-transform%3A%20none%3B%20white-space%3A%20normal%3B%20widows%3A%3D%0A%201%3B%20word-spacing%3A%200px%3B%20-webkit-text-stroke-width%3A%200px%3B%20background-colo%3D%0Ar%3A%20rgb%28255%2C%20255%2C%20255%29%3B%22%20%2F%3E%3Cspan%20style%3D3D%22color%3A%20rgb%2834%2C%2034%2C%2034%29%3B%20font-%3D%0Afamily%3A%20arial%2C%20sans-serif%3B%20font-size%3A%2012%3D2E8px%3B%20font-style%3A%20normal%3B%20fo%3D%0Ant-variant%3A%20normal%3B%20font-weight%3A%20normal%3B%20letter-spacing%3A%20normal%3B%20line-%3D%0Aheight%3A%20normal%3B%20orphans%3A%20auto%3B%20text-align%3A%20start%3B%20text-indent%3A%200px%3B%20te%3D%0Axt-transform%3A%20none%3B%20white-space%3A%20normal%3B%20widows%3A%201%3B%20word-spacing%3A%200px%3B%3D%0A%20-webkit-text-stroke-width%3A%200px%3B%20display%3A%20inline%20%21important%3B%20float%3A%20no%3D%0Ane%3B%20background-color%3A%20rgb%28255%2C%20255%2C%20255%29%3B%22%3E%26hellip%3B%26hellip%3B%26hellip%3B%26he%3D%0Allip%3B%26hellip%3B%26hellip%3B%26hellip%3B%26hellip%3B%26hellip%3B%26hellip%3B%26hellip%3B%26hellip%3B%26%3D%0Ahellip%3B%26hellip%3B%3D2E%3D2E%3D2E%3C%2Fspan%3E%3Cbr%20style%3D3D%22color%3A%20rgb%2834%2C%2034%2C%2034%29%3B%20fo%3D%0Ant-family%3A%20arial%2C%20sans-serif%3B%20font-size%3A%2012%3D2E8px%3B%20font-style%3A%20normal%3B%3D%0A%20font-variant%3A%20normal%3B%20font-weight%3A%20normal%3B%20letter-spacing%3A%20normal%3B%20li%3D%0Ane-height%3A%20normal%3B%20orphans%3A%20auto%3B%20text-align%3A%20start%3B%20text-indent%3A%200px%3B%3D%0A%20text-transform%3A%20none%3B%20white-space%3A%20normal%3B%20widows%3A%201%3B%20word-spacing%3A%200%3D%0Apx%3B%20-webkit-text-stroke-width%3A%200px%3B%20background-color%3A%20rgb%28255%2C%20255%2C%2025%3D%0A5%29%3B%22%20%2F%3E%3Cbr%20style%3D3D%22color%3A%20rgb%2834%2C%2034%2C%2034%29%3B%20font-family%3A%20arial%2C%20sans-s%3D%0Aerif%3B%20font-size%3A%2012%3D2E8px%3B%20font-style%3A%20normal%3B%20font-variant%3A%20normal%3B%20f%3D%0Aont-weight%3A%20normal%3B%20letter-spacing%3A%20normal%3B%20line-height%3A%20normal%3B%20orpha%3D%0Ans%3A%20auto%3B%20text-align%3A%20start%3B%20text-indent%3A%200px%3B%20text-transform%3A%20none%3B%20w%3D%0Ahite-space%3A%20normal%3B%20widows%3A%201%3B%20word-spacing%3A%200px%3B%20-webkit-text-stroke-%3D%0Awidth%3A%200px%3B%20background-color%3A%20rgb%28255%2C%20255%2C%20255%29%3B%22%20%2F%3E%3Cspan%20class%3D3D%22aB%3D%0An%22%20data-term%3D3D%22goog_182516753%22%20style%3D3D%22border-bottom-width%3A%201px%3B%20bor%3D%0Ader-bottom-style%3A%20dashed%3B%20border-bottom-color%3A%20rgb%28204%2C%20204%2C%20204%29%3B%20pos%3D%0Aition%3A%20relative%3B%20top%3A%20-2px%3B%20z-index%3A%200%3B%20color%3A%20rgb%2834%2C%2034%2C%2034%29%3B%20font-f%3D%0Aamily%3A%20arial%2C%20sans-serif%3B%20font-size%3A%2012%3D2E8px%3B%20font-style%3A%20normal%3B%20fon%3D%0At-variant%3A%20normal%3B%20font-weight%3A%20normal%3B%20letter-spacing%3A%20normal%3B%20line-h%3D%0Aeight%3A%20normal%3B%20orphans%3A%20auto%3B%20text-align%3A%20start%3B%20text-indent%3A%200px%3B%20tex%3D%0At-transform%3A%20none%3B%20white-space%3A%20normal%3B%20widows%3A%201%3B%20word-spacing%3A%200px%3B%20%3D20%3D%0A-webkit-text-stroke-width%3A%200px%3B%20background-color%3A%20rgb%28255%2C%20255%2C%20255%29%3B%22%3D%0A%20tabindex%3D3D%220%22%3E%3Cspan%20class%3D3D%22aQJ%22%20style%3D3D%22position%3A%20relative%3B%20top%3A%20%3D20%3D%0A2px%3B%20z-index%3A%20-1%3B%22%3ESaturday%2010%2F17%3C%2Fspan%3E%3C%2Fspan%3E%3Cspan%20style%3D3D%22color%3A%20r%3D%0Agb%2834%2C%2034%2C%2034%29%3B%20font-family%3A%20arial%2C%20sans-serif%3B%20font-size%3A%2012%3D2E8px%3B%20f%3D%0Aont-style%3A%20normal%3B%20font-variant%3A%20normal%3B%20font-weight%3A%20normal%3B%20letter-s%3D%0Apacing%3A%20normal%3B%20line-height%3A%20normal%3B%20orphans%3A%20auto%3B%20text-align%3A%20start%3B%3D%0A%20text-indent%3A%200px%3B%20text-transform%3A%20none%3B%20white-space%3A%20normal%3B%20widows%3A%20%3D20%3D%0A1%3B%20word-spacing%3A%200px%3B%20-webkit-text-stroke-width%3A%200px%3B%20display%3A%20inline%20%3D20%3D%0A%21important%3B%20float%3A%20none%3B%20background-color%3A%20rgb%28255%2C%20255%2C%20255%29%3B%22%3E%3Cspan%20%3D20%3D%0Aclass%3D3D%22Apple-converted-space%22%3E%26nbsp%3B%3C%2Fspan%3EGrimsby%2C%20Ontario%3C%2Fspan%3E%3Cb%3D%0Ar%20style%3D3D%22color%3A%20rgb%2834%2C%2034%2C%2034%29%3B%20font-family%3A%20arial%2C%20sans-serif%3B%20fon%3D%0At-size%3A%2012%3D2E8px%3B%20font-style%3A%20normal%3B%20font-variant%3A%20normal%3B%20font-weigh%3D%0At%3A%20normal%3B%20letter-spacing%3A%20normal%3B%20line-height%3A%20normal%3B%20orphans%3A%20auto%3B%3D%0A%20text-align%3A%20start%3B%20text-indent%3A%200px%3B%20text-transform%3A%20none%3B%20white-spac%3D%0Ae%3A%20normal%3B%20widows%3A%201%3B%20word-spacing%3A%200px%3B%20-webkit-text-stroke-width%3A%200p%3D%0Ax%3B%20background-color%3A%20rgb%28255%2C%20255%2C%20255%29%3B%22%20%2F%3E%3Cspan%20style%3D3D%22color%3A%20rgb%28%3D%0A34%2C%2034%2C%2034%29%3B%20font-family%3A%20arial%2C%20sans-serif%3B%20font-size%3A%2012%3D2E8px%3B%20font%3D%0A-style%3A%20normal%3B%20font-variant%3A%20normal%3B%20font-weight%3A%20normal%3B%20letter-spac%3D%0Aing%3A%20normal%3B%20line-height%3A%20normal%3B%20orphans%3A%20auto%3B%20text-align%3A%20start%3B%20te%3D%0Axt-indent%3A%200px%3B%20text-transform%3A%20none%3B%20white-space%3A%20normal%3B%20widows%3A%201%3B%20%3D20%3D%0Aword-spacing%3A%200px%3B%20-webkit-text-stroke-width%3A%200px%3B%20display%3A%20inline%20%21im%3D%0Aportant%3B%20float%3A%20none%3B%20background-color%3A%20rgb%28255%2C%20255%2C%20255%29%3B%22%3EFriesen%20R%3D%0Aesidence%3C%2Fspan%3E%3Cbr%20style%3D3D%22color%3A%20rgb%2834%2C%2034%2C%2034%29%3B%20font-family%3A%20arial%3D%0A%2C%20sans-serif%3B%20font-size%3A%2012%3D2E8px%3B%20font-style%3A%20normal%3B%20font-variant%3A%20n%3D%0Aormal%3B%20font-weight%3A%20normal%3B%20letter-spacing%3A%20normal%3B%20line-height%3A%20norma%3D%0Al%3B%20orphans%3A%20auto%3B%20text-align%3A%20start%3B%20text-indent%3A%200px%3B%20text-transform%3A%3D%0A%20none%3B%20white-space%3A%20normal%3B%20widows%3A%201%3B%20word-spacing%3A%200px%3B%20-webkit-text%3D%0A-stroke-width%3A%200px%3B%20background-color%3A%20rgb%28255%2C%20255%2C%20255%29%3B%22%20%2F%3E%3Cspan%20sty%3D%0Ale%3D3D%22color%3A%20rgb%2834%2C%2034%2C%2034%29%3B%20font-family%3A%20arial%2C%20sans-serif%3B%20font-siz%3D%0Ae%3A%2012%3D2E8px%3B%20font-style%3A%20normal%3B%20font-variant%3A%20normal%3B%20font-weight%3A%20no%3D%0Armal%3B%20letter-spacing%3A%20normal%3B%20line-height%3A%20normal%3B%20orphans%3A%20auto%3B%20text%3D%0A-align%3A%20start%3B%20text-indent%3A%200px%3B%20text-transform%3A%20none%3B%20white-space%3A%20no%3D%0Armal%3B%20widows%3A%201%3B%20word-spacing%3A%200px%3B%20-webkit-text-stroke-width%3A%200px%3B%20di%3D%0Asplay%3A%20inline%20%21important%3B%20float%3A%20none%3B%20background-color%3A%20rgb%28255%2C%20255%2C%3D%0A%20255%29%3B%22%3E%26nbsp%3B%3C%2Fspan%3E%3Ca%20href%3D3D%22tel%3A905-945-7724%22%20style%3D3D%22color%3A%20rgb%28%3D%0A17%2C%2085%2C%20204%29%3B%20font-family%3A%20arial%2C%20sans-serif%3B%20font-size%3A%2012%3D2E8px%3B%20fon%3D%0At-style%3A%20normal%3B%20font-variant%3A%20normal%3B%20font-weight%3A%20normal%3B%20letter-spa%3D%0Acing%3A%20normal%3B%20line-height%3A%20normal%3B%20orphans%3A%20auto%3B%20text-align%3A%20start%3B%20t%3D%0Aext-indent%3A%200px%3B%20text-transform%3A%20none%3B%20white-space%3A%20normal%3B%20widows%3A%201%3B%3D%0A%20word-spacing%3A%200px%3B%20-webkit-text-stroke-width%3A%200px%3B%20background-color%3A%20%3D20%3D%0Argb%28255%2C%20255%2C%20255%29%3B%22%20value%3D3D%22%2B19059457724%22%3E905-945-7724%3C%2Fa%3E%3Cbr%20style%3D3D%3D%0A%22color%3A%20rgb%2834%2C%2034%2C%2034%29%3B%20font-family%3A%20arial%2C%20sans-serif%3B%20font-size%3A%20%3D20%3D%0A12%3D2E8px%3B%20font-style%3A%20normal%3B%20font-variant%3A%20normal%3B%20font-weight%3A%20norma%3D%0Al%3B%20letter-spacing%3A%20normal%3B%20line-height%3A%20normal%3B%20orphans%3A%20auto%3B%20text-al%3D%0Aign%3A%20start%3B%20text-indent%3A%200px%3B%20text-transform%3A%20none%3B%20white-space%3A%20norma%3D%0Al%3B%20widows%3A%201%3B%20word-spacing%3A%200px%3B%20-webkit-text-stroke-width%3A%200px%3B%20backg%3D%0Around-color%3A%20rgb%28255%2C%20255%2C%20255%29%3B%22%20%2F%3E%3Cspan%20style%3D3D%22color%3A%20rgb%2834%2C%2034%2C%20%3D20%3D%0A34%29%3B%20font-family%3A%20arial%2C%20sans-serif%3B%20font-size%3A%2012%3D2E8px%3B%20font-style%3A%20%3D20%3D%0Anormal%3B%20font-variant%3A%20normal%3B%20font-weight%3A%20normal%3B%20letter-spacing%3A%20nor%3D%0Amal%3B%20line-height%3A%20normal%3B%20orphans%3A%20auto%3B%20text-align%3A%20start%3B%20text-inden%3D%0At%3A%200px%3B%20text-transform%3A%20none%3B%20white-space%3A%20normal%3B%20widows%3A%201%3B%20word-spa%3D%0Acing%3A%200px%3B%20-webkit-text-stroke-width%3A%200px%3B%20display%3A%20inline%20%21important%3B%3D%0A%20float%3A%20none%3B%20background-color%3A%20rgb%28255%2C%20255%2C%20255%29%3B%22%3E%26nbsp%3B%3C%2Fspan%3E%3Ca%20h%3D%0Aref%3D3D%22mailto%3Abob%3D2Efriesen1%40gmail%3D2Ecom%22%20style%3D3D%22color%3A%20rgb%2817%2C%2085%2C%20%3D20%3D%0A204%29%3B%20font-family%3A%20arial%2C%20sans-serif%3B%20font-size%3A%2012%3D2E8px%3B%20font-style%3A%3D%0A%20normal%3B%20font-variant%3A%20normal%3B%20font-weight%3A%20normal%3B%20letter-spacing%3A%20no%3D%0Armal%3B%20line-height%3A%20normal%3B%20orphans%3A%20auto%3B%20text-align%3A%20start%3B%20text-inde%3D%0Ant%3A%200px%3B%20text-transform%3A%20none%3B%20white-space%3A%20normal%3B%20widows%3A%201%3B%20word-sp%3D%0Aacing%3A%200px%3B%20-webkit-text-stroke-width%3A%200px%3B%20background-color%3A%20rgb%28255%2C%3D%0A%20255%2C%20255%29%3B%22%3Ebob%3D2Efriesen1%40gmail%3D2Ecom%3C%2Fa%3E%3Cbr%20style%3D3D%22color%3A%20rgb%2834%2C%3D%0A%2034%2C%2034%29%3B%20font-family%3A%20arial%2C%20sans-serif%3B%20font-size%3A%2012%3D2E8px%3B%20font-st%3D%0Ayle%3A%20normal%3B%20font-variant%3A%20normal%3B%20font-weight%3A%20normal%3B%20letter-spacing%3D%0A%3A%20normal%3B%20line-height%3A%20normal%3B%20orphans%3A%20auto%3B%20text-align%3A%20start%3B%20text-%3D%0Aindent%3A%200px%3B%20text-transform%3A%20none%3B%20white-space%3A%20normal%3B%20widows%3A%201%3B%20wor%3D%0Ad-spacing%3A%200px%3B%20-webkit-text-stroke-width%3A%200px%3B%20background-color%3A%20rgb%28%3D%0A255%2C%20255%2C%20255%29%3B%22%20%2F%3E%3Cspan%20style%3D3D%22color%3A%20rgb%2834%2C%2034%2C%2034%29%3B%20font-family%3A%3D%0A%20arial%2C%20sans-serif%3B%20font-size%3A%2012%3D2E8px%3B%20font-style%3A%20normal%3B%20font-vari%3D%0Aant%3A%20normal%3B%20font-weight%3A%20normal%3B%20letter-spacing%3A%20normal%3B%20line-height%3A%3D%0A%20normal%3B%20orphans%3A%20auto%3B%20text-align%3A%20start%3B%20text-indent%3A%200px%3B%20text-tran%3D%0Asform%3A%20none%3B%20white-space%3A%20normal%3B%20widows%3A%201%3B%20word-spacing%3A%200px%3B%20-webki%3D%0At-text-stroke-width%3A%200px%3B%20display%3A%20inline%20%21important%3B%20float%3A%20none%3B%20bac%3D%0Akground-color%3A%20rgb%28255%2C%20255%2C%20255%29%3B%22%3ECall%20or%20email%20for%20details%3C%2Fspan%3E%3Cb%3D%0Ar%20style%3D3D%22color%3A%20rgb%2834%2C%2034%2C%2034%29%3B%20font-family%3A%20ari