Vance'sMondayAcousticPajamaParty #154 - DECORATED 🥚s, NEW CD, CHOCOLATE 🐰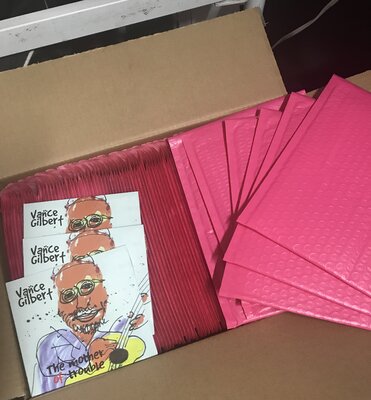 website: www.youtube.com/watch?v=R0hlThXqlEQ
Some Big Things:

~ VIDEO SINGLE "BLACK ROCHELLE" IS OUT Thanks for the preview and the hosting from The Bluegrass Situation
https://thebluegrasssituation.com/read/watch-vance-gilbert-black-rochelle/

~ New CD is HERE, not out, but yes, as you're on my mailing list, you can have one - order belough!!

~ Sunday 5/7 Cambridge MA ALBUM RELEASE SHOW WITH BAND Club Passim
https://www.passim.org/live-music/events/vance-gilbert/
It's but a mumphf away already and we're already about 1/2 sold out already…

Vance'sMondayAcousticPajamaParty #154 - DECORATED EGGS, NEW CD, CHOCOLATE BUNNIES,
When: Monday nite 4/10, 7:30pm ET

Where: https://youtube.com/live/R0hlThXqlEQ?feature=share

Who gets 10%: https://www.arcscluster.org The ARCS Cluster. Arlington Cambridge Somerville refugee support organization for my area. That kinda speaks for its own self.

http://paypal.me/vancevancevance or
https://venmo.com/vancevancevance or
VanceFunder P.O. Box 17,
Arlington, MA 02476 for this web-groovery.
Pay or not, up to you. Let's stay connected.

CD AVAILiaBull NOW!!! It's not out till May 5th, but as a MailerMember(c), you can get one!! Did you donate? Great!! **YOUR DONATION DOES NOT = AUTOMATIC CD TO YOU**, as the taxes would massacre me. PAY WHATEVER YOU LIKE ABOVE $10. Or whatever. Or free. Or whatever. Addresses above!!
----------
SOME THOUGHTS

~ My younger students can scroll lyrics to songs they don't quite know on any device including a phone, strum, and sing perfectly without dropping a beat

~ More hotels in the Madison, Wisconsin area for $60 - $75 range I mean come on!

~ Recently I ran about 4 miles, then went for Chinese food, got the Senior Discount, and was confused the rest of the day

~ I've started a song about a woman who learned stage show hypnosis from her father, eventually getting so good at it that it payed her way thru school to study theatre, came home to help her ailing parents, came out to them, then finally joined their local church because she liked the music and that church's final acceptance of LGBTQ+ folks in 2015. It's called Marion the Mesmerizing Thespian Presbyterian Lesbian.

~ Many of us have been invited to Passover and/or Easter meals. How many out there plan to eat at home first so you don't act like the ravenous unfed animal you've become over the last 3 years of COVID's mannerless, gracelessness at the home trough?

~ Gnocchi is a strange thing. I love them (it?) but the word looks and sounds like it might be Klingon for "booger".

~ Prosciutto sounds like a very fast thing. Or what Italian folks holler when they fight Bruce Lee in a movie. Or what you get when you cross a pig and a Lamborghini.

~ Somebody tell Microsoft Outlook that it is NOT the default email on my computer, and if it pops up uninvited again I'm going to have to go all prosciutto on its ass.

~ Sure. I'll spend some time this weekend filling some CD orders. It could be yours...