North Central Pennsylvania Tonight, Paul Reiser in Milwaukee, and Tennessee
Hi Everyone!
Miss me? I was on "retreat". But you can see me here:
7/23 - Wellsboro, PA - Endless Mountain Music Festival
https://www.endlessmountain.net/2019-guest-artists
...this is about 2 hours from Binghamton, NY!!
7/27 - Milwaukee, WI,
https://pabsttheater.org/event/paulreiser2019/
- Paul Reiser closes (hee heee)
8/3 - Blountville, TN - Wellmont Regional Center for the Performing Arts-
https://www.northeaststate.edu
There's to be some teachin and such at the Swannanoa Gathering tween them there Milwaukee gigs and such, so pardon my fake Southern accent writing…
I just sent off all the artwork and liner notes to Jane at Hallman Studios. OMG a real CD is actually going to happen if I have anything to do with it. It'll be called Good, Good Man, and I'm not sure whether there should or shouldn't be an Oxford comma between the last "Good" and the "Man". I'm sure y'all will let me know.
I'm back from my retreat. Ok vacation. OK both. As I've said here before, I seldom mix vocation and avocation, but you have to see this picture of one of my models in action. Yeah, that's my spare time. Those of you that know me know that even in the 5 days of blistering heat that I was in my sin. I have a Black people's sunburn. Not really painful or even red, a little itchy, but days later a thin layer of skin comes off on a towel or washcloth like a bath-time X-ray of the Shroud Of Turin.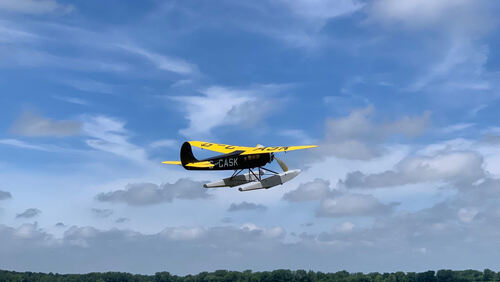 Look of that pretty airplane climbing out, powered by rubberbands. I know, right? I am truly the luckiest man alive that I do one kinda art for a livin and another completely kinda art for a hobby. Use you hands to do stuff, folks. Teach your kids to do it too.
You can still donate to the album cause as we head into promotion and publicity-ville, your name might make it onto the CD. You can do that here: PayPal = vancefunder@gmail.com. Or VanceFunder. P.O. box 17, Arlington, MA 02476
When I get CDs printed up, you can have one. Or a download. Or you can buy it. The video will be ready soon too.
Yeah I'm still coaching voice, performance, songwriting, ballroom disco-swing, and debating in other people's accents.
Peace,
vg