Vance Gilbert: One more Public 2019 Show, and Grateful Stories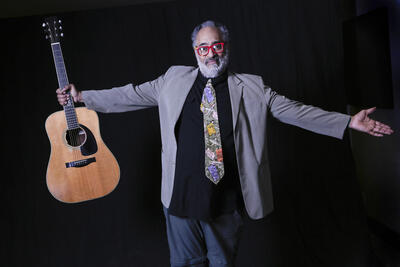 Hi VanceFan!
I have but one show to promote (that sounds so formal, don't it?):
Friday 12/20 Piermont NY The Turning Point -
www.turningpointcafe.com
- One of the longest played Vance History venues ever. I opened for Aztec Two-Step here in the late 80's, and John the owner has had me back umpteen times since. Some people just don't learn, but I am *grateful*. Free CDFTP (CDs From The Past) as stuffing stockers, Menorah supporters, Kwaanza bush ornaments, whatever you want them for. Get tix quick as this place is intimate and if my recent surge towwardz fame indicates anything, I may sell out here…:-)
——————————————————————————————
Stuff:
**A QUESTION TO FUNDERS: **
- - Hey All you Generous Ones - I've been told by my web hosting people and by Amy Malkoff, my Internet Manager and guru, that my website is in sore need of update - to the point hat the platform that it now works within is so seriously out of date that things as simple as pictures and even links are becoming tenuous to impossible to imbed or even use.
So my question to you funder folks - how do you feel about some of the promotional $$ I have going toward the website update? I mean, it isn't strictly a CD production expenditure, but CD promotion would be nigh impossible without its full functionality.
Lemme know your thoughts on that. - -
- December Holiday Private Party Dates . You want one? I have left: 12/6, 12/7 (boston area only), 12/13, 12/14, 12/15, 12/21, 12/22, 12/27, 12/28, 1/1.
- Good Good Man's street date is 1/24/20 (streaming and download then too), but you can get one from me at any show
• use PayPal to vancefunder@gmail.com
• send a check for anything between $10 - $20 and up to Vancefunder P.O. Box 17 Arlington, MA 02476
• **If your name is on the CD, you're a friend, family member, promoter, radio/podcast personage, cash strapped, or anyone else that thinks they should just have one, send me your address and just ask and I'll send it.**
- Holiday Soirées, coaching of songwriting, performance & voice, almond milking available upon request.
————————————————————————————————
**Grateful**
I can't list everything i life. I'll just spot some:
Grateful to World Cafe Philadelphia where I had a nearly sold out show.
Grateful to Craig Akin who chased me about most magnificently on upright bass, Candace at the bar, DL Byron the semi-pop-rock-icon from the 80's who opened the show and I'm sure was at least in part responsible for the burgeoning numbers.
Grateful to the guy whose name I forget that was playing for the lunchtime crowd when I arrived at World Cafe tired, 6-hour drive worn, ear-infected and half-hearing so maybe a little jaded, and here he was just *killing* Richard Thompson's Beeswing
Grateful to the Asplund clan who literally made up 1/4 of the World Cafe room.
Grateful to Maria for unpromptedly going about selling my CDs so that I could both hob and nob.
Grateful to Zinnia, my best friend's granddaughter, who was thrilled to play both marbles *and* Hot Wheels with great-uncle Vance when I stopped there on the way home.
Grateful to Deb when I got home for reminding me that being being grateful was something that could be subtly yet still actively expressed.
Grateful to Christina of Ecoclean LLC, her and her husband's company, for us being one of their first clients a decade ago, the clean house they give us, and the joy of once again trying to figure out where you put my stapler.
Grateful to Roscoe for ghosting through the room when we least expect it, no matter how painful his invisible brushing against a leg.
Grateful to the Gray/Duffy clan for nearly taking over Mandarava for that intimate Sunday show.
Grateful to Phil Deloria and Peggy for the Thanksgiving invite, and for the chuckle I get out of the fact that he is the son of Vin Deloria who wrote "Custer Died for Your Sins: An Indian Manifesto", Phil also being the first tenured Native American Studies professor at Harvard - here we are to go to some Native American folks' house for all the trimmings. I swear I want to show up with a turkey stuffed with chitterlings and cranberry-watermelon compote just to continue to mess with everyone's pre-supposed Thanksgiving sensibilities.
Yeah, for years we thought we Gilberts and Dennys were Mohawk, Seminole, and Cree. So, thinking I was about 1/2 Indian, I'd only celebrate Thanksgiving every other year in some strange genetic solidarity with my Indigenous homies. Turns out we are none of the above - we are prime examples of historian Heny Louis Gates' Black peoples who became disenchanted with perennially noting our English/Irish owner/sharecropper/master roots and therefore decided to systematically and purposely claim a more exotic ancestry. Twenty-3 and Me says we are Western European, Black, and Puerto Rican or Portuguese. This is based on a test my brother took. My brother jokes that knowing our parents, I should test too. *Grateful* to Phil and to 23andMe for release as I love turkey and the subsequent sandwiches so very much...
With stuffing and cranberry.
The jelly kind.
Mayo too.
Salt.
Pepper.
Grateful to the invite to the leftovers party where we will exchange pleasantries, turkey bits, and hopefully, stuffing with a family member that actually cannot stand us. Don't worry - I generally am well-behaved and only once have I polished off a plate of something delectably meant for the whole party. We'll see what's there this year. I'll leave the plate this time. Every other year…
---------------------
PS - FAVORITE THANKSGIVING STORY -
Pam Gray, of the Gray-Duffy clan mentioned above, and I used to date in college for a bit. I got invited to her house for Thanksgiving in 1979 where I met her Dad, Pete, a burly-voiced gregarious giant of a man, who knew 5 chords and could play anything written before 1960. He liked me enough, his second-daughter's "college friend". Two other kids from his second marriage made for quite a table of Northern Massachusetts folks. Like 8 Northern Massachusetts folks and me. You know what I'm saying…
So this very tall, very forthright, very White man Pete is going around the table with the tray of turkey meat, asking each party what they'd like on their plate and how much. He comes to me. "I'll have a little of both, Sir." He turns to Pam. "And you?" Pam replies "Only white meat for me, Daddy". He couldn't have seen me smirk or roll my eyes. I was certain I did it only on my inside. He leaned down between Pam and I, and, camouflaged by the chatter at the table, ever so quietly said to both of us "You two can work this out later…"
I miss you Pete. Hours playing with you in your kitchen. You knew everything. Every song. Even in the evening's eventuality of being deep in your cups, and cigarettes, you played on and on, demons be damned. You thought I hung the moon. You'd call WERS when I was live on air and demand they play more of me. I do this thing partially because of you. You thought I had something. I hope I do.